Dragon Age Inquisition: The Descent / Trespasser (soundtrack)
Talk

0
Share
Ad blocker interference detected!
Wikia is a free-to-use site that makes money from advertising. We have a modified experience for viewers using ad blockers

Wikia is not accessible if you've made further modifications. Remove the custom ad blocker rule(s) and the page will load as expected.
For the soundtracks of other Dragon Age games, see Soundtrack.
Dragon Age Inquisition: The Descent / Trespasser is the soundtrack for the last two DLC's of Dragon Age: Inquisition, released on November 13th, 2015. It was composed by Trevor Morris, who was also responsible for the soundtrack of the main game. The album has 10 tracks for a total of 25:57 minutes.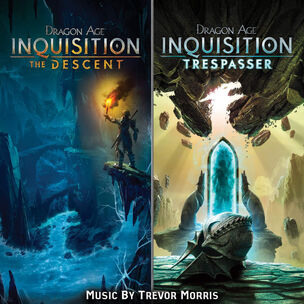 Tracklist
Edit
| Track | Name | Time |
| --- | --- | --- |
| 1 | Descent - Main Theme | 2:58 |
| 2 | Descent - Aftermath | 1:29 |
| 3 | Descent - Titan | 2:01 |
| 4 | Descent - Edge of the Abyss | 2:08 |
| 5 | Descent - Legion of the Dead | 2:20 |
| 6 | Trespasser - Dark Solas Theme | 3:01 |
| 7 | Trespasser - Lost Elf Theme | 3:58 |
| 8 | Trespasser - Qunari Atmosphere | 2:41 |
| 9 | Trespasser - Qunari Mission | 2:41 |
| 10 | Trespasser - Qunari Battle (Full Theme) | 2:40 |