Dragon Age Inquisition: The Bard Songs (soundtrack)
Talk

0
Share
Ad blocker interference detected!
Wikia is a free-to-use site that makes money from advertising. We have a modified experience for viewers using ad blockers

Wikia is not accessible if you've made further modifications. Remove the custom ad blocker rule(s) and the page will load as expected.
For the soundtracks of other Dragon Age games, see Soundtrack.
Dragon Age Inquisition: The Bard Songs is the soundtrack for the tavern songs heard in Dragon Age: Inquisition, first released for free on the Dragon Age website between January 26, 2015 and February 9, 2015, then released for sale on February 17, 2015. It was composed by Raney Shockne and featured Elizaveta and Nick Stoubis. Additional music was composed by Inon Zur, the composer of the first two Dragon Age games. The album has 10 tracks for a total of 19:36 minutes.
The sheet music for every track was released on the Dragon Age website alongside the songs themselves.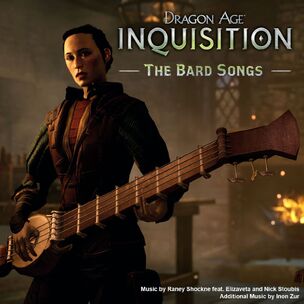 Tracklist
Edit
For the lyrics, see Category:Songs.
| Track | Name | Time |
| --- | --- | --- |
| 1 | I Am the One | 1:58 |
| 2 | Once we Were | 2:10 |
| 3 | Empress of Fire | 2:04 |
| 4 | Enchanters | 3:23 |
| 5 | Grey Warden | 2:12 |
| 6 | Nightingale's Eyes | 1:52 |
| 7 | Bard Maker | 1:36 |
| 8 | Sera | 1:45 |
| 9 | Rise | 1:26 |
| 10 | Samson | 1:10 |