Dragon Age II BioWare Signature Edition
Talk

0
Share
Ad blocker interference detected!
Wikia is a free-to-use site that makes money from advertising. We have a modified experience for viewers using ad blockers

Wikia is not accessible if you've made further modifications. Remove the custom ad blocker rule(s) and the page will load as expected.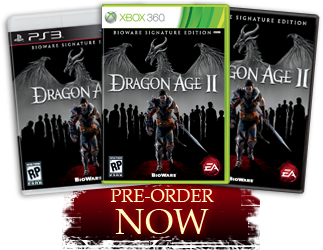 Dragon Age II BioWare Signature Edition was the physical media's premium edition of the game Dragon Age II that was available as a free upgrade if Dragon Age II was pre-ordered before January 11, 2011 for any platform. It was available from GameStop, Amazon, Electronics Boutique, and the EA store on October 14th, 2010 in a limited release, officially until January 11th, 2011. The Black Emporium (DLC) is sold separately, as well as the other contents when the SE is no longer available.[1]
Contents
Edit
Besides the base game, the Dragon Age II BioWare Signature Edition comes with:
The following items are available in this premium content.

Adder of Antiva
Adder of Antiva
---
Longbow
Gilt Beech
Requires: Archery

Damage: 64 physical damage
(60 per second)



+5% attack speed
+13 nature damage

Apostate's Courage
Apostate's Courage
---
Staff

Damage: 22 cold damage
(30 per second)



+13% cold damage
+422 cold resistance

Might of the Sten
Might of the Sten
---
Greatsword
Requires: Two-handed

Damage: 20 physical damage
(33 per second)




+5% attack speed

Ring of Resilience
Ring of Resilience
---
Ring

+1 to all attributes
+2% magic resistance

Seeker's Bulwark
Seeker's Bulwark
---
Metal Shield
Red Steel

Armor: 79



+8 armor
+6% magic resistance
References
Edit
↑ "So, how much is the signature edition after tomorrow?" - Chris Priestly on BioWare Social Network
Dragon Age series
Dragon Age: Origins

Dragon Age II

Dragon Age: Inquisition

Books
Comics
Films
Novels
Web series
Others