Dragon Age II: The Complete Official Guide
Talk

0
Share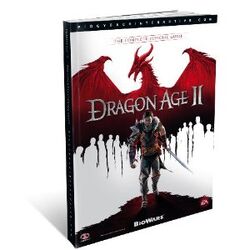 Dragon Age II: The Complete Official Guide is the official strategy guide for Dragon Age II. It is authored by Piggyback Interactive and published by Prima Games.
The guide's ISBN codes are ISBN 1-906064-79-2 (ISBN-10) and ISBN 978-1-906064-79-2 (ISBN-13). It contains 272 pages and became available on March 8, 2011.[1]
The guide's content includes:
The 100% complete guide to Dragon Age II
Carefully designed to avoid unnecessary story spoilers
A world map shows the position of all areas visited with an index of available locales listing all quests and page references to the relevant sections of the guide
A dedicated side quests chapter presents all side missions, random encounters and all additional optional activities with a checklist to reach 100% completion
The walkthrough features annotated area maps with step-by-step action on the left-hand page and expanded strategies and advanced tactics on the right
The strategy and analysis chapter focuses on high-level playing strategies and in-depth analysis of the game s underlying mechanics.
All-encompassing inventory chapter features exhaustive lists and tables covering: weapons, armor, accessories, special items, shops, runes, crafting, consumables and gifts
All-encompassing bestiary chapter presents all details on: enemy ranks, locations, attributes, resistances, loot drops and more
Collector's Edition
Edit
The limited edition of the Dragon Age II: The Complete Official Guide was also available in a Collector's Edition variant. The Collector's Edition variant has a hard cover.
Its ISBN codes are ISBN 0-307-89013-9 (ISBN-10) and ISBN 978-0-307-89013-9 (ISBN-13). It contains 288 pages (16 pages longer than the standard version) and became available on March 8th, 2011.[2]
In addition to the regular content, the Collector's Edition also features:
A hardcover reproduction of Cassandra's book from the game
An additional 16 pages with a behind-the-scenes section and an artwork gallery
External links
Edit
References
Edit
Dragon Age series
Dragon Age: Origins

Dragon Age II

Games
Add-ons
Guides

Dragon Age II: The Complete Official Guide

(

CE

)

Dragon Age: Inquisition

Books
Comics
Films
Novels
Web series
Others
Ad blocker interference detected!
Wikia is a free-to-use site that makes money from advertising. We have a modified experience for viewers using ad blockers

Wikia is not accessible if you've made further modifications. Remove the custom ad blocker rule(s) and the page will load as expected.