Dragon Age: Inquisition Inquisitor's Edition
Talk

0
Share
Ad blocker interference detected!
Wikia is a free-to-use site that makes money from advertising. We have a modified experience for viewers using ad blockers

Wikia is not accessible if you've made further modifications. Remove the custom ad blocker rule(s) and the page will load as expected.
The Inquisitor's Edition is the premium edition of Dragon Age: Inquisition. It retails for $169.99 USD/£129.97 and is available for PC, PS3, PS4, Xbox 360 and Xbox One.[1] It is available exclusively through GameStop. The PC Edition for Europe does not include the Flames of the Inquisition DLC, which will be available for purchase separately.[2]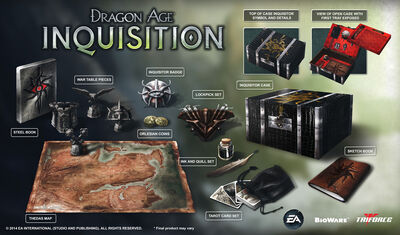 Highly detailed exclusive Inquisitor's Edition case produced by TriForce measures approximately 8.5" x 13.5" x 14.5" The case is individually wrapped in faux reptile skin, has the mark of the Inquisitor stamped on top in gold foil, with an interior fitted with imprinted red silk.
Cloth map of Thedas drawn to scale measuring approximately 22" x 32"
72 card Major and Minor Arcana tarot card deck with custom artwork depicting mythology from Dragon Age lore.
Inquisitor full scale, six piece, lock tool set
One set of four full scale map markers each approximately measuring 3.5" x 3.5" x 4"
Inquisitor's Badge
Quill and Inkpot
40-page Inquisitor's Journal
Orlesian Coins
Limited edition SteelBook case to house your copy of the game
DLC Code for Multiplayer Items
References
Edit
Dragon Age series
Dragon Age: Origins

Dragon Age II

Dragon Age: Inquisition

Books
Comics
Films
Novels
Web series
Others