Dragon Age: Dawn of the Seeker
Talk

20
6,749pages on
this wiki
Movie
Dragon Age: Dawn of the Seeker

Distributed by:

Japan: T.O Entertainment, Inc.
US: FUNimation Entertainment

Music by:

Tetsuya Takahashi

Written by:

Jeffrey Scott

Animation:

Oxybot

Running time:

90 minutes

Release date:
Dragon Age: Dawn of the Seeker (ドラゴンエイジ ブラッドメイジの聖戦 Dragon Age: Blood Mage no Seisen, lit. "Dragon Age: Crusade of the Blood Mages") is an animated feature film by BioWare and FUNimation set in the Dragon Age universe. The Japanese version was released to movie theaters on February 11, 2012,[1] while the English version was released on Blu-ray and DVD on May 29.[2] The story is about Cassandra Pentaghast who investigates a conspiracy in the Chantry. Orlais is visited, in addition to new locations.[3]
In the land of Orlais, a brash young Seeker—Cassandra—fights to stop a blood-soaked conspiracy. Hidden hands seek to tear apart the realm's most powerful religious order, and as the sinister plot unfolds, Cassandra is accused of treason and murder. Hunted by friend and foe alike, the impulsive beauty must clear her name while clashing with corrupt templars and rogue blood mages. Should she fail, the executioner's blade awaits. Should she overcome her rage and expose the unseen forces threatening the rule of the Divine, Cassandra will take her place in legend.[4]
The film follows the past of Cassandra Pentaghast, a Nevarran royal who embarks on a journey to unearth a conspiracy within the Chantry. One evening, Cassandra witnesses Byron taking a girl out of prison. When asked why, he tells her that the girl holds the key to a conspiracy, but are suddenly under attack by blood mages. The movie takes place in 9:22 Dragon.[5]
Production
Edit
For the Japanese version, Chiaki Kuriyama will voice Cassandra Pentaghast, Shōsuke Tanihara as Regalyan D'Marcall and Gackt as the Knight-Commander. Gackt will also sing the movie's theme song, "Until the Last Day".[6]
Characters
Edit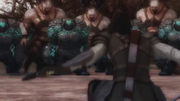 For a complete list, see Category: Dragon Age: Dawn of the Seeker characters.
Locations
Edit
Concept art
Edit
Screenshots
Edit
References
Edit
↑ 1.0 1.1 Dragon Age: Dawn of the Seeker official website (Japanese). Retrieved November 28, 2011.
↑ 2.0 2.1 Dragon Age: Dawn of the Seeker on Amazon.com Retrieved February 5, 2012.
↑ Landis, Daniel (July 22, 2011). "BioWare announces movie based on Dragon Age 2". Examiner.com. Retrieved July 22, 2011.
↑ "Dragon Age: Dawn of the Seeker". Official website. Retrieved January 27, 2012.
↑ Gaider, David. "Private communication via Tumblr". Retrieved February 3, 2013.
↑ "Battle Royale/Kill Bill's Kuriyama, Gackt Star in Dragon Age". Anime News Network. Retrieved December 10, 2011.
External links
Edit