The Dirty Back Alley is one of the many back alleys in the streets of Denerim. This shares the same basic layout as the "Back Alley" random encounters on the city map.
This area does not become visible on the Denerim City Map until you start the Back Alley Justice quest.
Involvement
Edit
The Warden must deal with the gang here (as well as two more in the Dark Alley and Run-Down Back Street) to finish the Back Alley Justice quest.
The Warden will also find widow Tania for Notices of Death, the door of blood mage's relative for Blood of Warning (atop the northwest staircase), and entry to Quaint Hovel for Unbound (east side).

Back Alley Justice

Blood of Warning

Notices of Death
Characters
Edit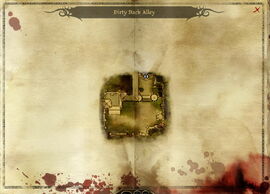 Ad blocker interference detected!
Wikia is a free-to-use site that makes money from advertising. We have a modified experience for viewers using ad blockers

Wikia is not accessible if you've made further modifications. Remove the custom ad blocker rule(s) and the page will load as expected.