The Dank Cave is a small, unmarked dungeon found in the Wounded Coast.
Involvement
Edit
Hawke will first encounter a group of spiders at the entrance. Soon after, there is some Raw Lyrium, a crafting material. Finally, there is a dragon guarding piles of treasure and an Evil Tome. Performing any action with the Evil Tome will result in several abominations, corpses, and a revenant being spawned.

Forbidden Knowledge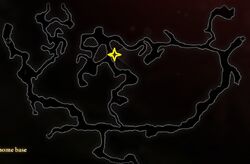 Notable items
Edit

Evil Tome
Evil Tome
---
Plot item


Lyrium
Lyrium
---
Crafting resource

Ad blocker interference detected!
Wikia is a free-to-use site that makes money from advertising. We have a modified experience for viewers using ad blockers

Wikia is not accessible if you've made further modifications. Remove the custom ad blocker rule(s) and the page will load as expected.