Ad blocker interference detected!
Wikia is a free-to-use site that makes money from advertising. We have a modified experience for viewers using ad blockers

Wikia is not accessible if you've made further modifications. Remove the custom ad blocker rule(s) and the page will load as expected.
Background
Edit
The Dalish elves are a nomadic peoples, and thus all of their equipment and homes are built to be mobile. Like all Dalish camps it is a collection of aravels pulled by their halla. It is merely a temporary residence for the Dalish before they are inevitably driven off by fearful Human villagers or decide they have lingered too long and fear becoming a target. In fact the Sabrae Clan are already preparing to leave Ferelden completely for the safety of Sundermount in the Free Marches.
This clan is led by their keeper Marethari.

The Lost Mysteries of the Ancients
Characters
Edit
Notable items
Edit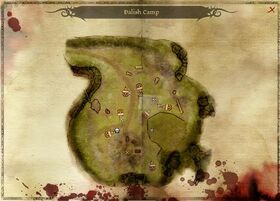 Scout's Bow
Scout's Bow
---
Shortbow
Varies (Tier 1-7)
Requires: 10 dexterity

Damage: 5.00
Critical chance: 1.00%
Armor penetration: 3.00
Strength modifier: 1.00
Rapid aim
x2
Clan Shield
Clan Shield
---
Buckler
Elm (Tier 1)
Requires: 10 strength

Fatigue: 0.0%
Strength modifier: 1.00

Dalish Gloves
Dalish Gloves
---
Light gloves
Varies (Tier 1-7)
Requires: 10 strength

Armor: 0.50
Fatigue: 1.00%
+1 dexterity
x2

Leather Helm
Leather Helm
---
Light helmet
Varies (Tier 1-7)
Requires: 10 strength

Armor: 0.75
Codex entries
Edit

Codex entry: Aravels

Codex entry: Arlathan: Part One

Codex entry: Arlathan: Part Two

Codex entry: Elgar'nan: God of Vengeance

Codex entry: Fen'Harel: The Dread Wolf

Codex entry: Ghilan'nain: Mother of the Halla

Codex entry: June: God of the Craft

Codex entry: The Dales

Codex entry: The Dalish Elves

Codex entry: History of Ferelden: Chapter 2

Codex entry: The City Elves