Daggers (Origins)
Talk

5
6,749pages on
this wiki
For the daggers in Dragon Age II, see Daggers (Dragon Age II).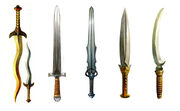 Daggers are one-handed melee weapons. While weaker than other weapon types, they generally possess higher values in critical rates and armor penetration. Their attack speed is also the highest of all melee weapons.
It is also notable that the Warden carries a knife with them at times to allow for instant kills in cut scenes. This is so the cut scenes do not have to be changed according to the weapon the Warden carries with them.
Properties
Edit
Name
Attribute
Attribute Modifier
Aim Time
Speed Modifier
Daggers
50% strength
50% dexterity
(100% strength before patch 1.02a on the PC/patch 1.04 on the consoles)
85%
-0.5
| Tier | Base damage | Armor penetration | Critical chance | Range | Requisite | Runes |
| --- | --- | --- | --- | --- | --- | --- |
| Iron (Tier 1) | 4.00 | 4.00 | 3.00 | Melee | 10 dexterity | 0 |
| Grey Iron (Tier 2) | 4.40 | 4.60 | 3.30 | Melee | 12 dexterity | 0 |
| Steel (Tier 3) | 4.80 | 5.20 | 3.60 | Melee | 14 dexterity | 1 |
| Veridium (Tier 4) | 5.20 | 5.80 | 3.90 | Melee | 18 dexterity | 1 |
| Red Steel (Tier 5) | 5.60 | 6.40 | 4.20 | Melee | 24 dexterity | 2 |
| Silverite (Tier 6) | 6.00 | 7.00 | 4.50 | Melee | 26 dexterity | 2 |
| Dragonbone (Tier 7) | 6.40 | 8.00 | 4.80 | Melee | 30 dexterity | 3 |
| White Steel (Tier 8) | 6.80 | 9.00 | 5.10 | Melee | 34 dexterity | 3 |
| Aurum Volcanic (Tier 9) | 7.20 | 10.00 | 5.40 | Melee | 38 dexterity | 3 |
Dragon Age: Origins Edit
Name
Damage

Critical chance
Armor penetration
Strength modifier
Runes
Enhancements
Notes
Beastman's Dagger
Red Steel
Requires: 24 dexterity
5.60
4.20%
6.40
0.85
2
+10% critical/backstab damage
Can be found inside a locked chest in the Templar Quarters.
Crow Dagger
Varies
Requires: 10-30 dexterity
4.00-6.40
3.00%-4.80%
4.00-8.00
0.85
0-3
+15% critical/backstab damage
Dagger
Varies
Requires: 10 dexterity
4.00
3.00%
4.00
0.85
0
Dar'Misu
Varies
Requires: 10 dexterity
4.00
3.00%
4.00
0.85
0
Darkspawn Dagger
Varies
Requires: 10 dexterity
4.00
3.00%
4.00
0.85
0
+0.5 armor penetration
-1 dexterity
Dead Thaig Shanker
Silverite
Requires: 26 dexterity
6.00
4.50%
7.00
0.85
2
+5 cunning
+0.5 armor penetration
+6 attack
Interrupts spellcasting
Requires the The Stone Prisoner DLC
Duncan's Dagger
Varies
Requires: 24-30 dexterity
5.60-6.40
4.20%-4.80%
6.40-8.00
0.85
2-3
+4 dexterity
+10% critical/backstab damage
+10 damage vs. dragons
Requires the Return to Ostagar DLC
Enchanted Dagger
Grey Iron
Requires: 12 dexterity
4.40
3.30%
4.60
0.85
0
+4 attack
Fang
Varies
Requires: 18 dexterity
5.20
3.90%
5.80
0.85
1-3
PC:
+6 attack
+6 damage vs. beasts

Consoles:
+3 cunning
+5% melee critical chance
+6 attack
+10% critical/backstab damage
+1 nature damage
Acquired from Cyrion by City Elf after returning to the Alienage provided that you did not accept Vaughan's bribe in the origin.
Gift of the Grey
Silverite
Requires: 26 dexterity
6.00
4.50%
7.00
0.85
2
+5% melee critical chance
Noble's Dagger
Grey Iron
Requires: 12 dexterity
4.40
3.30%
4.60
0.85
0
+1 electricity damage
Olaf's Prized Cheese Knife
Red Steel
Requires: 24 dexterity
5.60
4.20%
6.40
0.85
2
+1 armor penetration
Obtained from a key-required chest (Olaf's Chest) in the Village of Honnleath. Requires The Stone Prisoner DLC.
The Edge
Silverite
Requires: 26 dexterity
6.00
4.50%
7.00
0.85
2
+5 damage
+3% critical strike chance
+4 attack
The Edge is a downloadable in game item. Once activated, the eponymous dagger appears in the inventory.

Requires The Edge DLC.
The Rose's Thorn
Dragonbone
Requires: 30 dexterity
6.40
4.80%
8.00
0.85
3
+2 dexterity
+1/+2 health regeneration in combat
+3 damage
+5% melee critical chance
+30% critical/backstab damage
Can be bought from Garin in Orzammar Commons
Thorn of the Dead Gods
Varies
Requires: 12 dexterity (Tier 2)
14 dexterity (Tier 3)
26 dexterity (Tier 6)
4.40 (Tier 2)
4.80 (Tier 3)
6.00 (Tier 6)
3.30% (Tier 2)
3.60% (Tier 3)
4.50% (Tier 6)
4.60 (Tier 2)
5.20 (Tier 3)
7.00 (Tier 6)
0.85
0 (Tier 2)
1 (Tier 3)
2 (Tier 6)
Tier 2:
+2 damage
+2 armor penetration


Tier 3:
+1 damage
+1 armor penetration
Tier 6:
+3 damage
+3 armor penetration


This item does not scale. Instead there are three distinct tiers for this item - Tier 2, 3 and 6. The Tier 2 dagger can be purchased from Barlin in the tavern in Lothering. Two of the Tier 3 daggers can be stolen from Lord Dace (the first time when he is found in the Aeducan Thaig and the second time when he returns to Orzammar's Diamond Quarter). The Tier 6 dagger is found in a chest after finding The Drifter's Cache.
Varathorn's Dar'Misu
Veridium
Requires: 18 dexterity
5.20
3.90%
5.80
0.85
1
+2 armor penetration
+6 attack
Found on the corpse of Varathorn if killing the elves during Nature of the Beast
Dragon Age: Origins - Awakening Edit