Corrupted spider queen
Talk

6
6,748pages on
this wiki
Creature
Corrupted spider queen

Affiliation:

Rank:

Variations:

Locations:

Appearances:
The Corrupted Spider Queen is a particularly fierce example of Corrupted Spiders, a subspecies of Giant spiders found mostly in the Deep Roads. The species is generally faster and stronger than their cousins, an effect of feeding off smaller darkspawn.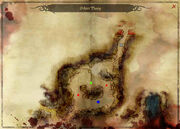 The Corrupted Spider Queen appears near Branka's Journal in the Ortan Thaig during the later stages of A Paragon of Her Kind. The Warden triggers her appearance by nearing the spot marked with a green dot on the map.
Before reaching the Corrupted Spider Queen, the Warden must fight through two Genlock Emissaries and some normal corrupted spiders. Make sure to destroy both groups, or they will assist the Corrupted Spider Queen.
Corruption Burst
Overwhelm
Poison Spit
Web
Basic Strategy
Edit
Outside the spider's lair, there are two Genlock Emissaries who call normal corrupted spiders for backup. Make sure to kill these before engaging the Corrupted Spider Queen, or they will assist her in the boss battle.
Nature and spirit resistance help in this battle. Use your salves on your lowest-HP characters and otherwise buff their resistance if you can.
Regardless of party positioning, the Queen tends to target party members with the lowest max HP with poison spit. Keep her concentrated on your tank to protect them.
Every 25% of her health you damage, the Queen will shoot a long-lasting Web at your entire party and withdraw back into her lair. Try not to follow her; it'll draw more of her minions to you.
Try to take out her minions first; they will use Overwhelm to interrupt your attacks on her, which can be distracting and dangerous.
Tips and Alternate Strategies
Edit
Using two melee fighters, an archer and a spirit healer in hold mode: positioning the range fighters in the back of the cavern and using the tank to pull as few minions as possible, it is possible to get the Queen to disengage upon retreating, allowing you to save your game.
Using two high-level mages: tactically use Force Field and Crushing Prison (separately) to hinder the Queen when she has her minions summoned. Kill the minions while she cannot move. Use Cone of Cold or Force Field to prevent members from being Overwhelmed.

Crushing Prison does not prevent the Queen from moving in Nightmare mode. It also wears off VERY quickly, and she can get rid of it by withdraw/moving.
Taking advantage of the bridge as a choke point: position party members at the side of the bridge furthest from the Spider Queen area, and send one member to bait the minions. This is a time-consuming method, but saves supplies.
Blood Magic can make this fight very easy, as Blood Wound can disable an arbitrary amount of Corrupted Spiders for a long time and Blood Control allows you to even the odds by overtaking one of the minions. Ideally, you want to do this as a "last resort" option when a vital party member gets Overwhelmed.
A solo rogue with expert Trap-Making can easily defeat the Queen by stealth-laying multiple firetraps near the corner.
Pulling the Queen
Edit
A rogue in stealth, or a sufficiently quick and lucky tank, can be used to selectively pull the queen - ensure your party is held out of sight and trigger the queen with the rogue and then run around a corner.
The Queen will not web the rogue and will be dormant. Attack the Queen with the rogue from a distance with a flask then run back towards the party. The Queen will follow EVEN if the rogue is still in stealth mode.
Once the Queen is within spitting distance of a visible member it will stop moving; as long as it is out of sight from the spawn point, you should be all right.
Simply Sleep, Horror, and Nightmare the Queen and go to melee town on it with your party. As soon as it comes to, it will web and go to the ceiling. Your party is out of sight of the spawn point so can rest/save and then the stealthed rogue can pull the Queen again. Rinse and repeat.
You will find that a LOT of corrupted spiders are spawned using this method, but lots of fireballs and sleep/horror/nightmare with some selective pulling (they should pull in twos) makes short work of them.
Solo Shield Warrior Strategy
Edit
This strategy refers to the map above.
Attempting to kill Corrupted Spider Queen with solo might be quite a challenge. Overwhelm makes her a dangerous enemy in close combat, and Poison Spit makes her very dangerous in ranged fight.
This is based on a weapon and shield warrior build, with 140+ defense and pretty low damage output.
Note: The Queen's poison spit stacks, and she seems to be able to cast it over and over again with no cooldown period. To make things worse, each subsequent spit will reset the duration timer. This results in massive nature damage per second. My character was unable to tank it with 70% nature resistance and constant use of health poultices. It is crucial to close in on her quickly, because a few spits will leave you with 40 or more nature damage per second (varies according to resistance).
As always, when chance of Overwhelm is present, activate Shield Wall instead of Shield Defense.
Upon triggering her appearance, the Queen will attempt to web you. Regardless of the success of her web attack, she will escape to the ceiling and two spiders will appear. Engage them in close combat.
A few seconds later, the Queen will reappear some distance away from you and use her poison spit. Leave the spiders alone and charge at the Queen--she should not be left at range. The spider minions will follow you, but ignore them and keep attacking the Queen.
Your character will probably be Overwhelmed now; just tank it. If one of the spiders successfully webs you, it will break Overwhelm.
Eventually, the Queen will escape to the ceiling again. Run away from the green dot area towards the blue dot. Spiders will follow you and you can take care of them there.
After killing spider minions, your character will probably disengage from combat. If this happens, heal and save. Run back towards the green dot, and the Queen will notice you again.
Hide behind the rocks in the middle of the cave and let her come to you. When her health drops low enough, she will escape again and summon more spiders. Show yourself to the spiders while she is away and hide again. Kill them off just like previous minions.
After dealing with her spiders the Queen will be alone and you can engage her in relative safety. No matter what she tries on you, as long as you don't allow her to cast consecutive poison spits, you should be all right.
Giant spiders
Ortan Thaig
A Paragon of Her Kind
Bloodline
Bloodline
---
Waraxe
Varies (Tier 1-7)
Requires: 25 strength

Damage: 8.40
Critical chance: 1.40%
Armor penetration: 3.20
Strength modifier: 1.10




+3 dexterity
+10% spirit resistance
+1 armor penetration
+4 damage vs. darkspawn
Silk Weave Gloves
Silk Weave Gloves
---
Light gloves
Inscribed Leather (Tier 6)

Armor: 1.33
Fatigue: 1.13%
+20% nature damage
4 to 5