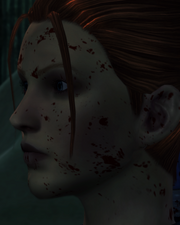 These codex entries are only available within the Leliana's Song DLC. Leliana's Song uses a different numbering system than Dragon Age: Origins and the other DLC's. Its list of entries is smaller and most sections never gain a single entry. It shares four creature and thirteen control entries with the original game, along with whatever spell combinations you can trigger. The following eleven quest-related entries are unique to this DLC and completely replace those from the original game.
Raiding the Collective
Number:

280

Location:

Denerim Market

Appearances:
I remember...
The note from the Mages' Collective had said there were clues around the market that would point to a hidden cache. At the time, I didn't care that someone had earned that money, or that someone else had scrounged to collect it. Finding the clues would be adventure--distraction. I even looked forward to the inevitable guard. By the signature, Severin was the poor fellow's name.
The Orlesian Game of Intrigue
Number:

283

Location:

Denerim Market

Appearances:
I remember...
Marjolaine had given me clippings from a Fereldan book. A social dissection of Orlais, or some such:
"Orlais presents a veneer of opulence, but the aristocracy are committed to a system of social one-upmanship they call the game. Sprawling receptions delight friend and foe, while bards strike from shadow with insinuation, larceny, and assassination, often to the strange delight of their targets. Control of these auteur agents is yet another layer of the game.
"Auteur agent" I liked. The rest could not be more dry. Fereldans truly did not understand my world. And that, of course, was Marjolaine's intent. I had arranged my favorite associates and followed her to Denerim not for the promise of money, but for the excitement of toying with fools. I was her creature.
The Arl's Estate
Number:

284

Location:

Noble's Estate

Appearances:
I remember...
Like many of Marjolaine's little surprises, I was more excited than afraid. The arl's estate was the typical posturing of a fortress in peacetime, its ramparts meant to appease nobility, not defend soldiers. It may have been fearsome long before, but at that moment, it was just another prize I longed to humble for Marjolaine. I would come to learn that in the arl's absence, the estate had been left in far more troubling hands.
The Hard Line
Number:

285

Location:

Noble's Estate

Appearances:
I remember...
The soldiers called their group the Hard Line, and it was not unearned. They were freeholders sworn to one Harwen Raleigh, a noble who had distinguished himself during the Orlais-Ferelden conflict. But they ended the war in disgrace, and their patron was even denied the return of his title and land. I knew nothing of this at the time. I would come to regret it later.
War Journal, Revised
Number:

286

Location:

Noble's Estate

Appearances:
I remember...
Had my younger self cared, I'd have seen that early in the war journal the Hard Line were highly praised, but after their patron's land was lost, they were censured by King Maric directly for brutal treatment of prisoners. Their patron being Harwen Raleigh, whose latest request to forcibly retrieve his territory had been denied. But they were distant problems, and not mine to worry about.
Harwen Raleigh's Personal Journal
Number:

287

Location:

Noble's Estate

Appearances:
I remember...
The personal journal of Commander Raleigh was a horrible insight. He boasted of cruelty far beyond the public accounting. He pined for an excuse to attack Orlais, to take back his lost land. It was easy to imagine how clinging to such hatred would poison a man. But I could not know how this stranger's private war would collide with my love for Marjolaine.
Marjolaine
Number:

288

Location:

Hideout

Appearances:
I remember...
Marjolaine commanded fear, respect, and a high price. She was the Orlesian aristocracy's answer when the next step in a rivalry was to end it. And she was everything I wanted to be. She never spoke of herself, never gave hints of who she was away from the game, but she always seemed to know how to captivate us. She was a mentor, not a leader. She suggested, and others grew wealthy in her shadow.
At the time I only casually noted that Marjolaine's satchel held just the bare essentials for travel. It was barren of anything even remotely sentimental.
Sketch
Number:

289

Location:

Hideout

Appearances:
I remember...
I met Sketch in Val Royeaux, but he had spent so much of his life hiding among immigrants and smugglers he lacked the connection, resentment, and even accent of other city elves. His primary concerns were persecution as a mage, not an elf. He was not the bardic type, but I suppose the game was more forgiving than the templars.
I remember his books. Not unexpected for a mage, but most were mere distraction--the thinnest pulp of history. The only proper "mage tome" was a volume of Philosophy and Ethics Regarding the Manipulation of Summoned Creatures, which he owned because it was large. He was slowly covering every page with little preoccupied scribbles, as though the text wasn't even there.
Tug
Number:

290

Location:

Hideout

Appearances:
I remember...
Tug. Tug was a dwarf with few words for strangers, and choice words for friends. He was a strange fit in Orlais, but he never offered a reason for why he left his home. I had accepted his company and friendship knowing he would share what he wanted in his own good time.
He laughed when I first asked about the silk kerchiefs. We'd be in some noble's vault pocketing gems, and Tug would be rummaging the linens. They were his practical luxury, because "one can never be sure of toiletries while traveling." He once said, far too loudly, that he'd spoiled himself and "lost his callus," but I suspect that may have been for Sketch's blanching reaction.
An Introduction
Number:

291

Location:

Chantry

Appearances:
I remember...
A statue of Andraste. There were many, in both Orlais and Ferelden, but I had never held still long enough to really see one. The Chant of Light would have put my younger self to sleep, but the beauty and strength of that figure offered strange comfort. I was too foolish for revelation, but doubt would bring me back, and there would be no shortage of that.
Silas
Number:

292

Location:

Dungeons

Appearances:
I remember...
Silas Corthwaite was an odd one. He eagerly fell back into the role of soldier. At the time I assumed he wanted revenge. I would come to see that he was trying to be the example that Raleigh had spoiled. I'm not sure Silas even realized he was doing it. Eventually I would feel a sad kinship--Marjolaine had offended my profession in a similar way.
Silas had been stripped of everything, so he had nothing personal to show his nature. But there was something about the way he looked at the trappings of the Chantry, especially the candles. He was a stranger there, like me, but as a Fereldan, he was not so far from home. It was important that everything be "just right," not because he believed, but because someone believed. I found that charming.