Ad blocker interference detected!
Wikia is a free-to-use site that makes money from advertising. We have a modified experience for viewers using ad blockers

Wikia is not accessible if you've made further modifications. Remove the custom ad blocker rule(s) and the page will load as expected.
Main article: Heroes of Dragon Age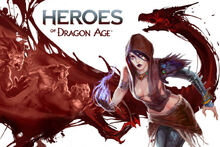 Characters in Heroes of Dragon Age belong to one of five Factions: Red, Blue, Black, White and large creatures. Additionally, there are five rarities for characters: Common, Uncommon, Rare, Epic, and Legendary. Each of these rarities correspond to the difficulty in acquiring the character in game. A maximum of 250 characters (including duplicates) can be in your inventory at any one time.
All characters have a power and health stat corresponding to how much damage they can deal and how much damage they can take. A character's speed is an indication of its initiative in combat with faster characters acting first. Many characters have special abilities, such as stun, taunt (more likely to be hit), gain power, flank (more likely to attack the back row), various ally boosts, and others.
Some rarer characters might have variants and be treated as different characters. For example, Anders and Vengeance Anders are two different characters in Heroes of Dragon Age.
Characters can be consumed to increase XP and critical strike chance, allow the character to Tier up, and unlock Fortification slots. Consuming similar characters or members of the same Faction will also provide additional bonuses. Characters consumed are then permanently removed from the inventory.
Higher tiered characters have more power and health at every level compared to lower tiered characters. Characters can be combined up to tier IV. Additionally, each tier raises the level cap by 5.
Characters can also be Fortified.
With the release of version 2.0 of the game, new characters called Consume Wisps have been introduced. These characters operate differently from other characters in that they are meant to be used in Consuming rather than as part of squads used for battle. These wisps grant high bonuses when consumed, depending on the rarity of the wisp. Consuming a wisp that is of the same faction as the character gives an additional boost.
There are three different categories of Legendary heroes denoted by 1, 2, or 3 stars. The higher stars a hero has, the more powerful they are, and the higher level they can become. Most Legendaries are 1-star heroes and have a maximum level of 85. 2-star (aka Ultra-Legendary) heroes can reach maximum level 90. 3-star heroes have a maximum level of 95.
List of characters
Edit
| | Power | Health | Faction | Speed | Target | Special Ability | Group |
| --- | --- | --- | --- | --- | --- | --- | --- |
| Avvar Goat Common | 24 | 64 | Red | Normal | All | Heal allies, Chance for second attack, Power drain immunity aura (to Goats), Health aura (+50% to Creatures) | Creatures |
| Bear | 43 | 105 | Large | Slow | Row | Stun (small chance), Power aura (+10%) | Creatures |
| Blackstone Irregular | 22 | 66 | Red | Quick | One | Drain power | Ferelden, Rogues |
| Carta Smuggler | 30 | 62 | Red | Quick | One | None | Dwarves, Outlaws, Rogues |
| Carta Thug | 21 | 66 | Red | Quick | One | Drain power | Dwarves, Outlaws, Rogues |
| Circle Apprentice | 35 | 45 | Blue | Slow | Row | None | Mages, Circle |
| Common Black Wisp | 1 | 1 | Black | Normal | One | Strong boost when consumed | None |
| Common Blue Wisp | 1 | 1 | Blue | Normal | One | Strong boost when consumed | None |
| Common Giant Wisp | 1 | 1 | Giant | Normal | One | Strong boost when consumed, +15% health to Spirits | None |
| Common Red Wisp | 1 | 1 | Red | Normal | One | Strong boost when consumed | None |
| Common White Wisp | 1 | 1 | White | Normal | One | Strong boost when consumed | None |
| Coterie Thug | 38 | 94 | Red | Normal | One | None | Outlaws, Rogues |
| Elf Bandit | 25 | 88 | Red | Quick | One | None | Outlaws, Rogues, Elves |
| Fereldan Ash Warrior | 25 | 88 | White | Normal | One | Stun (high chance) | Ferelden, Warriors |
| Ghast | 25 | 88 | Red | Quick | One | Flank | Creatures, Rogues |
| Giant Corrupted Spider | 55 | 110 | Large | Slow | Row | Power aura (+10%) | Blighted, Creatures |
| Hurlock Bolter | 15 | 70 | Black | Quick | Row | None | Blighted, Rogues |
| Hurlock Grunt | 39 | 91 | Black | Normal | One | None | Blighted, Warriors |
| Legionnaire Scout | 21 | 70 | White | Quick | One | Gain power | Dwarves, Rogues |
| Legionnaire Warrior | 45 | 72 | White | Normal | One | None | Dwarves, Warriors |
| Nug | 10 | 33 | Red | Normal | One | None | Creatures |
| Shade | 15 | 127 | Black | Normal | Row | None | Demonic, Mages |
| Sharps Highwayman | 26 | 67 | Red | Quick | One | None | Outlaws, Rogues |
| Skeleton Archer | 28 | 73 | Black | Quick | One | None | Demonic, Rogues |
| Skeleton Mage | 25 | 64 | Black | Normal | Row | None | Demonic, Mages |
| Templar Archer | 17 | 55 | White | Quick | Column | None | Templars, Chantry, Rogues |
| Templar Recruit | 24 | 70 | White | Normal | Row | None | Templars, Chantry, Warriors |
| Wolf | 35 | 105 | Red | Normal | One | None | Creatures |
| Werewolf | 35 | 105 | Blue | Normal | One | Flank | Creatures, Rogues |
Uncommon
Edit
| Character | Power | Health | Faction | Speed | Target | Special Ability | Group |
| --- | --- | --- | --- | --- | --- | --- | --- |
| Apostate Wanderer | 80 | 205 | Red | Slow | Row | None | Apostates, Mages |
| Ashaad | 50 | 103 | Red | Quick | Column | None | Qunari, Rogues |
| Avvar Goat Uncommon | 78 | 195 | Red | Normal | Column | Drain power, Chance for second attack, Stun immunity (to Goats), Health aura (+50% to Creatures) | Creatures |
| Blighted Werewolf | 95 | 292 | Black | Normal | One | Flank | Blighted, Creatures, Rogues |
| Carta Assassin | 80 | 183 | Red | Quick | One | None | Dwarves, Outlaws, Rogues |
| Chasind Scout | 85 | 274 | Red | Slow | One | Gain power | Ferelden, Outlaws, Rogues |
| Chasind Wilder | 96 | 226 | Red | Slow | One | Gain power | Ferelden, Outlaws, Rogues |
| Corrupted Spider | 110 | 242 | Black | Normal | One | Power aura (+35% to Blighted) | Blighted, Creatures |
| Coterie Thief | 87 | 146 | Red | Quick | One | None | Outlaws, Rogues |
| Crow Assassin | 90 | 130 | Red | Quick | One | None | Outlaws, Rogues |
| Dalish Hunter | 76 | 154 | Blue | Quick | One | Slow | Rogues, Elves |
| Darkspawn Emissary | 140 | 186 | Black | Slow | One | Slow | Apostates, Blighted, Mages |
| Devouring Corpse | 90 | 234 | Black | Normal | One | Heal self | Demonic, Warriors |
| Devouring Skeleton | 100 | 275 | Black | Normal | One | None | Demonic, Warriors |
| Dwarven Warrior | 120 | 233 | White | Slow | One | Gain power | Dwarves, Outlaws, Warriors |
| Elf Apostate | 75 | 193 | Red | Slow | Row | None | Apostates, Elves, Mages |
| Elf Bard | 80 | 133 | Blue | Quick | One | Slow | Rogues, Elves |
| Elven Mage | 120 | 165 | Blue | Normal | One | Slow | Apostates, Elves, Mages |
| Enraged Spirit | 99 | 256 | Blue | Slow | One | Gain power | Spirits, Warriors |
| Fereldan Infantry | 98 | 251 | White | Normal | One | Slow | Ferelden, Warriors |
| Fereldan Knight | 95 | 182 | White | Normal | One | Stun (high chance) | Ferelden, Nobility, Warriors |
| Genlock Assassin | 46 | 276 | Black | Slow | Row | Stun (small chance) | Blighted, Rogues |
| Genlock Brute | 58 | 215 | Black | Slow | Row | Stun (small chance) | Blighted, Warriors |
| Halla | 155 | 549 | Large | Normal | One | None | Creatures |
| Hurlock Emissary | 89 | 158 | Black | Slow | Column | None | Apostates, Blighted, Mages |
| Karashok | 85 | 325 | Red | Normal | One | None | Qunari, Warriors |
| Kirkwall Guard | 120 | 209 | White | Normal | One | None | Warriors |
| Mabari | 113 | 232 | White | Normal | One | None | Creatures |
| Ogre | 111 | 331 | Large | Slow | Row | Stun (small chance) | Blighted |
| Red Iron Mage | 85 | 182 | Red | Slow | Row | None | Apostates, Outlaws, Mages |
| Redwater Raider | 87 | 149 | Red | Quick | One | Drain power | Outlaws, Rogues |
| Shriek | 85 | 156 | Black | Quick | One | None | Blighted, Rogues |
| Silent Sister | 111 | 314 | White | Slow | One | Gain power | Dwarves, Outlaws, Rogues |
| Sylvan | 129 | 411 | Large | Slow | Row | Health aura (+25% to Beasts and Demons) | Creatures, Demonic |
| Tal-Vashoth Marauder | 85 | 179 | Red | Slow | Row | None | Outlaws, Qunari, Warriors |
| Templar Assassin | 91 | 124 | White | Quick | One | None | Templars, Chantry, Rogues |
| Tevinter Warrior | 110 | 242 | Blue | Normal | One | None | Tevinter, Warriors |
| Uncommon Black Wisp | 1 | 1 | Black | Normal | One | Strong boost when consumed | None |
| Uncommon Blue Wisp | 1 | 1 | Blue | Normal | One | Strong boost when consumed | None |
| Uncommon Giant Wisp | 1 | 1 | Giant | Normal | One | Strong boost when consumed, +25% health to Spirits | None |
| Uncommon Red Wisp | 1 | 1 | Red | Normal | One | Strong boost when consumed | None |
| Uncommon White Wisp | 1 | 1 | White | Normal | One | Strong boost when consumed | None |
| Walking Corpse | 97 | 285 | Black | Normal | One | None | Demonic, Warriors |
| Character | Power | Health | Faction | Speed | Target | Special Ability | Group |
| --- | --- | --- | --- | --- | --- | --- | --- |
| Abomination | 175 | 413 | Black | Normal | One | None | Demonic, Warriors |
| Allure | 80 | 200 | Black | Slow | All | Stun (small chance), Gain power | Demonic, Mages |
| Armored Ogre | 188 | 488 | Large | Slow | Row | Stun (small chance) | Blighted |
| Avvar Barbarian | 99 | 211 | Red | Slow | All | Slow, Slow immunity (50% to Avvars), Gain Power, More likely to be hit | Outlaws, Avvar, Warriors |
| Avvar Goat Rare | 100 | 326 | Red | Normal | Row | Curse (negate/prevent power gain), Chance for second attack, Slow immunity (to Goats), Power aura (+50% to Creatures) | Creatures |
| Bartrand Tethras | 124 | 274 | Red | Normal | One | Stun (moderate chance) | Red Lyrium, Dwarves, Outlaws, Rogues |
| Bereskarn | 350 | 578 | Large | Normal | One | Health aura (+50% to Blighted), Taunt | Blighted, Creatures |
| Black Nugly Sweater | 130 | 363 | Black | Slow | Row | Greatly Slow, Drain power, Health aura (+35% to Blighted, +35% bonus health to Nugly Sweater Nugs | Blighted, Creatures |
| Blue Nugly Sweater | 105 | 193 | Blue | Normal | One | Heal allies, Reduce damage aura (-10% to Creatures and Spirits), Health aura (+25% to Giants) | Spirits, Creatures |
| Charred Sylvan | 199 | 739 | Large | Slow | Row | None | Creatures, Demonic |
| Circle Mage Bethany | 98 | 325 | Blue | Slow | Column | Stun (small chance) | Ferelden, Nobility, Mages, Circle |
| Circle Senior Enchanter | 104 | 295 | Blue | Slow | Row | Stun (small chance) | Mages, Circle |
| Corrupted Nug | 70 | 283 | Black | Quick | Row | Drain power | Blighted, Creatures |
| Cultist Assassin | 77 | 305 | Black, Red | Quick | One | Drain power, Gain power when enemy dies, Slow resistance aura (to Reavers) | Ferelden, Outlaws, Rogues, Reavers |
| Cultist Mage | 98 | 325 | Black, Red | Normal | Column | Drain power, Gain power when enemy dies, Reduce drain power aura (to Reavers) | Blood Mage, Ferelden, Outlaws, Mages, Reavers |
| Cultist Overseer | 91 | 319 | Black, Red | Normal | Row | Heal self, Gain power when enemy dies, Gain power when ally dies, Stun resistance aura (to Reavers) | Ferelden, Outlaws, Mages, Reavers |
| Dalish Arcane Warrior | 200 | 330 | Blue | Normal | Row | None | Elves, Warriors |
| Dalish Lunar Warrior | 200 | 330 | Blue | Normal | Row | None | Elves, Warriors |
| Dalish Mage | 213 | 287 | Blue | Normal | One | None | Apostates, Elves, Mages |
| Dalish Solis Warrior | 180 | 407 | Blue | Normal | One | Gain power | Elves, Warriors |
| Dalish Warrior | 184 | 385 | Blue | Normal | One | Gain power | Elves, Warriors |
| Dark Revenant | 166 | 403 | Black | Normal | Row | None | Demonic, Warriors |
| Desire Demon | 62 | 193 | Black | Slow | All | Stun (moderate chance) | Demonic, Mages |
| Dragon Thrall | 178 | 559 | Large | Slow | All | Reduce damage aura (-10% to all), Taunt | Blighted, Creatures, Dragon |
| Drake | 91 | 319 | Red | Slow | All | Power aura (+35% to Red) | Creatures, Dragon |
| Fennec | 75 | 303 | Red | Quick | One | Drain power, Power aura (+25% to Creatures, bonus 25% to Fennec), More likely to attack nugs | Creatures |
| Fereldan Arl | 150 | 414 | White | Normal | One | Empower allies (chance), Power aura (+5%) | Ferelden, Nobility, Warriors |
| Fereldan Bann | 100 | 459 | White | Normal | One | Stun (high chance) | Ferelden, Nobility, Warriors |
| Freemarcher | 105 | 372 | Red | Slow | Row | Gain power | Warriors |
| Genlock Alpha | 199 | 333 | Black | Normal | One | None | Blighted, Warriors |
| Grey Warden Mage | 84 | 171 | Blue, White | Slow | All | Slow, Drain power, Bonus damage (+25% vs Blighted) | Apostates, Wardens, Mages |
| Grey Warden Rogue | 88 | 371 | Black, White | Quick | One | Gain power, Bonus damage (+25% vs Blighted) | Rogues, Wardens |
| Grey Warden Warrior | 144 | 361 | Black, White | Normal | One | Gain power, Bonus damage (+25% vs Blighted) | Wardens, Warriors |
| Harlequin | 100 | 286 | White | Quick | One | Gain power | Orlesian, Rogues |
| Hunger Demon | 500 | 165 | Black | Normal | One | Damage self | Demonic, Warriors |
| Knight-Commander Greagoir | 166 | 442 | White | Normal | One | Health aura (+25% to Templars), Bonus damage (+25% vs Mages) | Templars, Ferelden, Chantry, Warriors |
| Lay Sister Leliana | 97 | 224 | White | Quick | One | Gain power, Power aura (+50% to Chantry) | Ferelden, Chantry, Orlesian, Rogues |
| Mage Nug | 82 | 221 | Blue | Slow | All | Stun (small chance) | Creatures, Mages, Circle |
| Noble Nug | 95 | 331 | Red | Normal | Column | Heal self, Health aura (+35% to Ferelden) | Ferelden, Nobility, Creatures |
| Paragon Branka | 130 | 282 | White | Normal | One | Drain power, Gain power, Health aura (+35% to Dwarves) | Dwarves, Nobility, Outlaws, Warriors |
| Pride Abomination | 100 | 297 | Black | Normal | Column | Gain power or drain power (chance) | Demonic, Warriors |
| Rage Demon | 123 | 353 | Black | Slow | Row | None | Demonic, Mages |
| Rare Black Wisp | 1 | 1 | Black | Normal | One | Strong boost when consumed | None |
| Rare Blue Wisp | 1 | 1 | Blue | Normal | One | Strong boost when consumed | None |
| Rare Giant Wisp | 1 | 1 | Giant | Normal | One | Strong boost when consumed, Health aura (+50% to spirits) | None |
| Rare Red Wisp | 1 | 1 | Red | Normal | One | Strong boost when consumed | None |
| Rare White Wisp | 1 | 1 | White | Normal | One | Strong boost when consumed | None |
| Reanimated Leandra | 130 | 363 | Black | Normal | One | Slow, Drain power | Nobility, Demonic, Mages |
| Red Nugly Sweater | 80 | 204 | Red | Normal | All | Empower allies, Gains power when attacked | Outlaws, Creatures |
| Revenant | 114 | 279 | Black | Normal | Row | None | Demonic, Warriors |
| Rift Wraith | 100 | 325 | Black | Normal | Column | Bonus damage (+50% vs mages), Slow resist (50%), Stun resist aura (15%) | Demonic |
| Ser Cauthrien | 165 | 446 | White | Normal | One | None | Ferelden, Nobility, Warriors |
| Shriek Alpha | 110 | 216 | Black | Quick | One | Gain power | Blighted, Rogues |
| Silver Halla | 200 | 737 | Large | Quick | Column | Heal allies, Less likely to attack Creatures or Elves | Creatures |
| Slave Fenris | 80 | 271 | Red, Blue | Normal | Column | Stun (small chance) | Tevinter, Outlaws, Rogues, Elves |
| Sloth Abomination | 99 | 211 | Black | Slow | All | Slow (small chance) | Demonic, Mages |
| Sloth Demon | 500 | 440 | Black | Normal | One | Drain power, Depower self | Demonic, Mages |
| Spirit of Valor | 137 | 538 | Blue | Normal | One | None | Spirits, Warriors |
| Sten | 93 | 316 | Red | Slow | All | None | Qunari, Warriors |
| Stroud | 46 | 482 | Black, White | Slow | All | Stun (small chance), Absorb AOE damage for allies if also attacked, Bonus damage (+25% vs Blighted) | Orlesian, Wardens, Warriors |
| Tal-Vashoth Berserker | 175 | 374 | Red | Slow | One | Gain power | Outlaws, Qunari, Warriors |
| Templar Carver | 105 | 332 | White | Normal | Row | None | Templars, Ferelden, Nobility, Chantry, Warriors |
| Templar Recruit Alistair | 80 | 270 | White | Normal | Row | Stun (small chance) | Templars, Ferelden, Nobility, Chantry, Warriors |
| Tevinter Arcane Mage | 70 | 202 | White | Normal | All | Slow | Tevinter, Apostates, Mages |
| Tevinter Arcane Warrior | 150 | 495 | Blue | Normal | One | None | Tevinter, Apostates, Warriors |
| Tevinter Battlemage | 54 | 330 | Blue | Slow | All | Slow, Stun (small chance) | Tevinter, Apostates, Mages |
| Tevinter Laetan Mage | 90 | 263 | White | Normal | All | Slow | Tevinter, Apostates, Mages |
| Tevinter Slaver | 105 | 193 | White | Slow | All | Heal self, Power aura (+25% to Tevinter) | Tevinter, Apostates, Blood Mage, Mages |
| Velghast | 77 | 305 | Red | Slow | All | Slow, Slow resistance aura (to Beasts and Mages) | Creatures, Mages |
| White Nugly Sweater | 200 | 330 | White | Quick | Column | Health aura (+25% to Nugs and Ferelden), +25% bonus health and power to Nugly Sweater Nugs | Ferelden, Creatures |
| Wintersend Dragon | 100 | 303 | Large | Quick | All | None | Creatures, Dragon |
| Wintersend Nug | 205 | 314 | Red | Normal | One | None | Ferelden, Creatures |
| Wintersend Rock Wraith | 142 | 398 | Large | Normal | Column | Stun (small chance) | Demonic |
| Wyvern | 162 | 717 | Large | Normal | Column | None | Creatures, Dragon |
| Zathrian | 90 | 182 | Blue | Normal | One | Slow, Stun (small chance), Power aura (+50% to Elves) | Apostates, Blood Mage, Elves, Mages |
| Card | Character | Power | Health | Faction | Speed | Target | Special Ability | Group |
| --- | --- | --- | --- | --- | --- | --- | --- | --- |
| | Ancient Rock Wraith | 341 | 1071 | Large | Slow | Row | Gain power | Demonic |
| | Anders | 280 | 495 | Red | Slow | Column | None | Apostates, Mages |
| | Arcane Horror | 222 | 977 | Black, Blue | Slow | One | Slow | Demonic, Mages |
| | The Arishok | 325 | 1031 | Red | Slow | One | Power aura (+50% to Qunari), Taunt | Qunari, Warriors |
| | Armored Bear | 267 | 941 | Large | Slow | All | Gain power and/or health (small chance) | Creatures |
| | Avvar Goat Epic | 250 | 444 | Red | Normal | All | Stun (small chance), Chance for second attack, Reduce damage aura (+10% to Goats), Health aura (+50% to Creatures) | Creatures |
| | Ash Wraith | 161 | 488 | Black | Quick | One | Heal self | Demonic, Rogues |
| | Athenril | 130 | 435 | Red | Quick | Row | Gain power, Flank, Health aura (+25% to Elves, Power aura (+25% to Elves), Elusive | Outlaws, Rogues, Elves |
| | Aveline Vallen | 120 | 1100 | White | Normal | Row | Taunt | Ferelden, Nobility, Warriors |
| | Beresaad Warrior | ? | ? | Red | Normal | Row | Stun (small chance), Stun resistance aura (50% to Qunari), Usually attacks back row | Outlaws, Qunari, Warriors |
| | Bronto | 290 | 1155 | Large | Slow | Column | Slow, Reduce damage aura (-10%) | Creatures |
| | Cassandra Pentaghast | 255 | 482 | White | Slow | Column | None | Nobility, Chantry, Seekers, Warriors |
| | Chevalier | 250 | 660 | White | Normal | One | Gain power, Immune to slow, Taunt | Nobility, Orlesian, Warriors |
| | Chocolate Nug | 237 | 593 | Black | Quick | One | Attacks up to 5 times, Chance to Slow, Health aura (+50% to Nugs), Power aura (+50% to Nugs) | Creatures |
| | Connor Guerrin | 210 | 374 | Black | Slow | Row | Stun (small chance), Reduce drain power aura (+50% to Demons) | Apostates, Nobility, Demonic, Mages |
| | Corypheus | 163 | 440 | Black | Slow | All | Drain power | Tevinter, Apostates, Blood Mage, Nobility, Blighted, Mages |
| | Cultist Reaver | 260 | 484 | Black, Red | Slow | Row | Stun (small chance), Gain power when enemy dies | Ferelden, Outlaws, Warriors, Reavers |
| | Dalish | ? | ? | Red, Blue | Slow | All | Curse power, Gain power, Power aura (15% to Bull's Chargers and Inquisition), Stun resist aura (25% to Bull's Chargers and Inquisition) | Bull's Chargers, Mages, Elves |
| | Duncan | 225 | 572 | Black, White | Quick | One | Flank, Bonus damage (+25% vs Blighted), Elusive | Rogues, Wardens |
| | Epic Black Wisp | 1 | 1 | Black | Normal | One | Strong boost when consumed | None |
| | Epic Blue Wisp | 1 | 1 | Blue | Normal | One | Strong boost when consumed | None |
| | Epic Giant Wisp | 1 | 1 | Giant | Normal | One | Strong boost when consumed, +75% health to Spirits | None |
| | Epic Red Wisp | 1 | 1 | Red | Normal | One | Strong boost when consumed | None |
| | Epic White Wisp | 1 | 1 | White | Normal | One | Strong boost when consumed | None |
| | Fenris | 105 | 328 | Red, White | Normal | All | Stun (small chance) | Outlaws, Elves, Warriors |
| | Fereldan Teyrn | 198 | 637 | White | Slow | Column | Heal self, Health aura (+5%) | Ferelden, Nobility, Warriors |
| | First Enchanter Orsino | 177 | 462 | Blue | Slow | All | Heal self, Gain power when ally is attacked, Immune to drain power | Blood Mage, Elves, Mages, Circle |
| | Florianne | 250 | 440 | White, Red | Quick | Column | Curse (negate/prevent power gain), Health aura (+25% to Nobility), Power aura (+25% to Nobility), Elusive | Nobility, Orlesian, Rogues |
| | Fluffy | 100 | 318 | Blue, White | Normal | All | Slow | Creatures |
| | Gate Guardian | 303 | 889 | Large | Slow | All | None | None |
| | Gatt | 255 | 442 | Red | Normal | Column | Drain power, Slow (medium chance), Health aura (15% to Qunari and elves), Power drain resist aura (25% to Qunari and elves), Evade | Bull's Chargers, Qunari, Rogues, Elves |
| | Grey Warden Alistair | 202 | 550 | Black, White | Normal | Row | Health aura (+50% to Grey Wardens), Bonus damage (+25% vs Blighted) | Templars, Ferelden, Nobility, Wardens, Warriors |
| | Grey Warden Bethany | 150 | 399 | Black, Blue | Normal | All | Power aura (+50% to Apostates), Bonus damage (+25% vs Blighted) | Apostates, Ferelden, Nobility, Wardens, Mages |
| | Grey Warden Carver | 125 | 453 | Black, White | Normal | Row | Stun (small chance), Absorb AOE damage for allies if also attacked, Bonus damage (+25% vs Blighted) | Ferelden, Nobility, Wardens, Warriors |
| | The Herald | 155 | 517 | Black | Normal | Column | Gain power, Stun resistance aura (+15%) | Blighted, Warriors |
| | Inferno Golem | 311 | 1521 | Large | Slow | Column | None | Dwarves, Golem |
| | King Cailan | 275 | 732 | White | Normal | One | Slow, Health aura (+25% to Ferelden), Power aura (+25% to Ferelden) | Ferelden, Nobility, Warriors |
| | Knight-Comm. Meredith | 178 | 497 | Red, White | Normal | Column | Heal self, Health aura (+50% to Templars) | Templars, Chantry, Warriors |
| | Lady of the Forest | 179 | 479 | Red | Slow | Row | Stun (small chance), Health aura (+50% to Creatures) | Spirits, Mages |
| | Leliana | 144 | 550 | White | Quick | One | Slow, Drain power, Power aura (+50% to Chantry) | Chantry, Orlesian, Rogues |
| | Magister Pavus | 260 | 484 | White | Quick | Row | Curse (negate/prevent power gain), Upon death allies gain power | Tevinter, Mages |
| | Mhairi | 125 | 330 | Black, White | Normal | Column | Heal self, Absorb AoE damage for allies if attacked also, Reduce damage aura (-10% to all) | Ferelden, Nobility, Wardens, Warriors |
| | Oghren | 195 | 612 | White | Slow | Row | Gain power | Dwarves, Warriors |
| | Ogre Commander | 333 | 733 | Large | Slow | Row | Stun (small chance) | Blighted |
| | The Old One | 300 | 791 | Large | Normal | Row | Slow | Spirits |
| | Pride Demon | 350 | 2090 | Large | Normal | One | Taunt | Demonic |
| | Queen Anora | 120 | 275 | White | Normal | All | Empower allies, Health aura (+50% to Ferelden) | Ferelden, Nobility, Warriors |
| | Red Templar Archer | 204 | 552 | Black, Red | Quick | Column | Drain power, Gain power, Slow immunity aura (to Red Lyriums), Power aura (25% to Red Lyriums), More likely to attack mages | Red Lyrium, Templars, Rogues |
| | Red Templar Warrior | ? | ? | Black, Red | Quick | Column | Drain power, Gain power, Slow immunity aura (to Red Lyriums), Power aura (24% to Red Lyrium heroes), Most likely to attack mages | Red Lyrium, Templars, Rogues |
| | Salit | 223 | 1010 | Red | Slow | One | Gain power, Taunt | Outlaws, Qunari, Warriors |
| | Sebastian Vael | 150 | 507 | White | Quick | One | Gain power | Nobility, Chantry, Rogues |
| | Sentinel Archer | 130 | 435 | Blue | Quick | Row | Slow, Flank, Gain health when ally or enemy dies, Health aura (+25% to Sentinel Elves) | Elves, Rogues |
| | Sentinel Shadow | 120 | 424 | Blue | Quick | Column | Stun (moderate chance), Gain health when ally or enemy dies, Health aura (+25% to Sentinel Elves) | Elves, Rogues |
| | Sigrun | 152 | 454 | White | Quick | One | Stun (small chance), Gain power, Power aura (+50% to Dwarves) | Dwarves, Warriors |
| | Slave Statue | 300 | 825 | White | Slow | Row | Damage self, Taunt | None |
| | Spike | 225 | 567 | Black, Red | Normal | Column | Damage self | Creatures |
| | Sten of the Beresaad | 235 | 825 | Red | Slow | One | Gain power | Qunari, Warriors |
| | Stone Golem | 200 | 715 | White | Slow | Row | Stun (small chance), Reduce damage aura (-10% to Dwarves) | Dwarves, Golem, Warriors |
| | Templar Samson | 204 | 552 | White | Normal | Row | Drain power, Curse (negate/prevent power gain), Gain power when allies are attacked, Power aura (+50% to Templars), More likely to attack Mages | Templars, Warriors |
| | Terror | 300 | 880 | Large | Quick | One | Reduce damage (-25%), Bonus damage (+50% vs Mages), Elusive | Demonic |
| | Tusket | 150 | 303 | Red | Slow | Column | Stun (small chance), Power aura (+35% to Creatures) | Creatures |
| | Varterral | 200 | 539 | Large | Quick | All | Power aura (+50% to Elves), Stun resistance aura (+15%) | Spirits, Creatures |
| | Velanna | 150 | 288 | Blue | Slow | All | Stun (small chance), Health aura (+25% to Elves), Power aura (+25% to Elves) | Apostates, Outlaws, Elves, Mages |
| | Wintersend Halla | 500 | 1430 | Large | Normal | One | None | Creatures |
| | The Withered | 350 | 729 | Black | Normal | One | Immune to slow, Taunt | Blighted, Warriors |
| | Xebenkeck | 152 | 289 | Black | Slow | All | Curse (prevent healing), Heal allies, Empower allies | Demonic, Mages |
| | Yavana | 170 | 266 | Red | Slow | All | Slow, Power aura (+50% to Apostates), Bonus damage (+50% vs Warriors) | Apostates, Mages |
| | Zevran | 175 | 447 | Red | Quick | One | Slow, Drain power | Outlaws, Rogues Elves |
Legendary
Edit
One-star
Edit
| | Character | Power | Health | Faction | Speed | Target | Special Ability | Group |
| --- | --- | --- | --- | --- | --- | --- | --- | --- |
| | Alpha Werewolf | 245 | 732 | Blue | Normal | One | Gain power, Flank, Power aura (+35% to Beasts) | Creatures, Rogues |
| | Ancient Darkspawn | 375 | 990 | Black | Slow | One | Drain power from all enemies (chance), Reduce damage aura (-10% to Blighted), Health aura (+35% to Blighted) | Blighted, Warriors |
| | Apostate Jowan | 295 | 605 | Black, Red | Slow | Row | Heal self, Reduce damage aura (-10% vs black faction), Gain power when ally is attacked, Immune to drain power | Apostates, Blood Mage, Mages |
| | The Architect | 396 | 733 | Black | Normal | One | Heal self, Health aura (+50% to Blighted) | Apostates, Blighted, Mages |
| | Ariane | 230 | 715 | Red, Blue | Normal | Row | Greatly Slow, Drain power, Flank | Rogues, Elves |
| | Arl Eamon Guerrin | 350 | 990 | White | Normal | Row | Heal self, Health aura (+25% to Nobility), Power aura (+25% to Nobility) | Ferelden, Nobility, Warriors |
| | Arlathan General | 200 | 655 | Blue | Quick | One | Stun (moderate chance), Flank, Elusive | Elves, Warriors |
| | Assassin Florianne | 100 | 523 | Black, Red | Quick | All | Stun (small chance), Immune to stun, Bonus damage (+35% vs Inquisition), Elusive | Nobility, Outlaws, Orlesian, Rogues |
| | Avvar Goat Legendary | 360 | 998 | Red | Normal | Row | Stun (chance), Heal self (small chance), Chance for second attack, Gain health when ally dies, Health aura (+25% to Creatures), Power aura (+25% to Creatures) | Creatures |
| | Barkspawn | 352 | 835 | Red, White | Normal | One | Stun, slow or drain power (small chance), Gain power when ally is attacked, Immune to slow | Pets, Ferelden, Creatures, Wardens, Warriors |
| | The Baroness | 234 | 527 | Black | Slow | Row | Stun (small chance), Power aura (+50% to Demons) | Apostates, Blood Mage, Nobility, Demonic, Mages |
| | Ben-Hassrath | 144 | 413 | Red | Quick | All | Health aura (+50% to Qunari) | Qunari, Rogues |
| | Briala | 129 | 352 | White, Red | Quick | All | Drain power, Health bonus (+50% to Outlaws and Elves), Elusive | Nobility, Orlesian, Elves, Rogues |
| | Brogan Dace | 325 | 1032 | White | Slow | One | Gain power, Heal self, Immune to stun, Gain power when attacked, Resist damage (25%), Taunt | Dwarves, Nobility, Reavers, Warriors |
| | Byron | 375 | 770 | White | Normal | One | Empower allies, Reduce damage aura (+10% to all) | Chantry, Seekers, Warriors |
| | Caladrius | 274 | 527 | Black, White | Slow | Row | Heal self, Flank, Immune to drain power, Power aura (+50% to Blood Mages) | Tevinter, Blood Mage, Mages |
| | Chasind General | 230 | 845 | Red, White | Slow | Column | Gain power, Power aura (+35% to Outlaws) | Outlaws, Warriors |
| | Corrupted Spiderling | 330 | 726 | Black | Normal | One | Stun or Slow (chance), Power aura (+35% to Blighted) | Blighted, Creatures |
| | Corrupted Spider Queen | 500 | 935 | Large | Slow | Row | Drain power, Reduce drain power aura (+50% to Blighted) | Blighted, Creatures |
| | Crow Zevran | 180 | 429 | Red | Quick | Row | Drain power, Flank, Elusive | Elves, Rogues |
| | Danarius | 210 | 798 | Black, White | Normal | All | Slow (small chance), Gain power when ally is attacked, Immune to stun | Tevinter, Blood Mage, Mages |
| | Diamond Shale | 260 | 1100 | White | Slow | Row | Stun (small chance), Reduce damage aura (-10% to Dwarves) | Dwarves, Golems, Warriors |
| | Dragon Flemeth | 400 | 1265 | Large | Slow | All | Power aura (+35% to all), Taunt | Apostates, Creatures, Mages |
| | Duke Prosper | 175 | 440 | Red, White | Quick | Row | Drain power, Flank, Health aura (+35% to Nobility) | Nobility, Outlaws, Orlesian, Rogues |
| | Eirik | 160 | 385 | Black, Red | Slow | One | Heal allies, Gain power when enemy dies, Health aura (+25% to Reavers), Power aura (+25% to Reavers) | Ferelden, Outlaws, Mages, Reavers |
| | Elite Harlequin | 260 | 240 | White | Quick | Row | Chance for second attack, Power aura (+25% to Orlesians and Rogues), More likely to attack Ferelden or Qunari | Orlesian, Rogues |
| | The First | 350 | 825 | Black | Normal | One | Drain power, Gain power, Power aura (+50% to Blighted), Taunt | Blighted, Warriors |
| | Flemeth | 234 | 502 | Red | Slow | All | Gain power when ally dies, Reduce damage (-25% vs Warriors) | Apostates, Mages |
| | Ghast Leader | 225 | 792 | Red | Quick | One | Gain power, Flank | Creatures, Rogues |
| | Giant | ? | ? | Giant | Slow | Column | Stun, Small chance big self heal, Gain power, Bonus damage to Creatures, Immune to stun | Creatures |
| | Grand Enchanter Fiona | 140 | 421 | Blue, White | Normal | All | Slow, Power aura (+35% to Circle) | Orlesian, Elves, Mages, Circle |
| | The Grand Oak | 492 | 2199 | Large | Slow | One | Heal allies, Reduce damage aura (-10%) | Spirits |
| | Guard Captain Aveline | 241 | 781 | White | Slow | Row | Gain power, Slow resistance aura (+50%), Health aura (+25% to Warriors), Power aura (+25% to Warriors) | Ferelden, Nobility, Warriors |
| | Harvester Orsino | 285 | 1067 | Large | Slow | All | Slow, Health aura (+50% to Blood Mages) | Blood Mage, Demonic, Circle |
| | High Dragon | 360 | 1238 | Large | Slow | All | Immune to stun, Taunt | Creatures |
| | High Seeker Aldren | 375 | 770 | White | Slow | Row | Slow, Bonus damage (+35% vs Chantry), Reduce damage (+25%) | Chantry, Seekers, Warriors |
| | Horror | ? | ? | Black, Red | Normal | All | Slow, Stun, Health aura (+50% to Red Lyrium), Bonus damage to Mages | Red Lyrium, Templars, Warriors |
| | Hybris | 222 | 1099 | Large | Normal | Column | Stun | Demonic |
| | Isabela | 162 | 575 | Red, White | Quick | Column | Stun resistance aura (+15% to Outlaws), Elusive | Outlaws, Rogues |
| | Keeper Marethari | 185 | 330 | Blue | Normal | All | Empower allies, Power aura (+25% to Elves), Reduce damage aura (-10% to Elves) | Apostates, Elves, Mages |
| | King Alistair | 256 | 703 | White | Slow | Column | Empower allies, Health aura (+50% to Grey Wardens), Power aura (+50% to Ferelden), Bonus damage (+25% vs Blighted) | Templars, Ferelden, Nobility, Wardens, Warriors |
| | King Endrin Aeducan | 395 | 1320 | White | Slow | One | Reduce drain power aura (+50% to all), Taunt | Nobility, Dwarves, Warriors |
| | Lord Pyral Harrowmont | 350 | 990 | White | Normal | Column | Heal self, Health aura (+35% to Dwarves and Golems) | Nobility, Dwarves, Warriors |
| | Lyrium Fenris | 230 | 770 | White, Red | Normal | All | Stun (small chance), Gains health when allies die, Immune to slow, Elusive | Outlaws, Elves, Warriors |
| | Maddox | 189 | 328 | Blue | Normal | All | Drain power, Curse (negate/prevent power gain), Stun immunity aura (to Circle), Slow immunity aura (to Apostates), Health aura (+50% to Mages) | Apostates, Mages |
| | Merrill | 184 | 330 | Black, Blue | Normal | All | Drain power, Health aura (+35% to Elves), Stun resistance aura (15% to Elves) | Apostates, Blood Mage, Elves, Mages |
| | Morrigan | 225 | 605 | Red | Slow | Row | Stun (small chance), Health aura (+35% to all), Power aura (+35% to Apostates), Gain health when enemy dies | Apostates, Inquisition, Mages |
| | Nathaniel Howe | 180 | 429 | Black, White | Quick | Column | Drain power, Power aura (+50% to Grey Wardens) | Ferelden, Nobility, Rogues, Wardens |
| | Nightmare Aspect | ? | ? | Giant | Normal | Column | Slow, Power aura (+50% to Demons), Elusive | Demonic |
| | Noble Spirit of Hope | ? | ? | Blue | Normal | One | Increase power of allies, Absorb AoE damage for allies if attacked, Power aura (+50% to Wynne), Upon death allies gain power, Bonus damage to Demons | Spirits |
| | Phoenix | 250 | 1073 | Large | Quick | All | Heal self, Health aura (+20% to all) | Creatures |
| | Prince Bhelen Aeducan | 180 | 468 | Red, White | Slow | One | Slow, Bonus damage (+50% vs Dwarves), Flank | Nobility, Dwarves, Rogues |
| | Queen of the Blackmarsh | 400 | 979 | Large | Slow | All | Elusive | Spirits, Creatures |
| | Rasaan | 250 | 1100 | Red | Normal | Column | Curse, Heals allies, Stun resist aura (+25% to Qunari), Slow resist aura (+25% to Qunari), Health aura (+25% to Qunari), Power aura (+25% to Qunari) | Qunari, Rogues |
| | Red Lyrium Meredith | 179 | 385 | Black | Normal | All | Gain power, Bonus damage (+50% vs Mages), Reduce damage (-50% vs Mages) | Templars, Red Lyrium, Chantry, Warriors |
| | Risen Ogre | 416 | 916 | Large | Normal | Column | Heal self, Absorb AOE damage for allies if also attacked, Gain power when attacked | Blighted, Demonic, Warriors |
| | Ruby Shale | 450 | 1210 | White | Normal | One | Power aura (+50% to Dwarves) | Dwarves, Golem, Warriors |
| | Saarebas | 220 | 614 | Red | Slow | All | Immune to drain power | Apostates, Qunari, Mages |
| | Samson | ? | ? | Black, Red | Normal | Row | Gain power when allies attacked, Grant power drain immunity and +50% power to Red Lyrium, More likely to attack Mages | Red Lyrium, Templars, Warriors |
| | Sandal | 185 | 319 | White | Normal | All | Drain power | Dwarves, Mages |
| | Schmooples | 250 | 1485 | Red, Blue | Normal | One | Heal self, Absorb AOE damage for allies if also attacked, Health aura (+35% to Chantry), Taunt | Pets, Chantry, Creatures, Warriors |
| | Seeker Cassandra | 325 | 990 | White | Normal | Column | Drain Power, Absorb AOE damage for allies if also attacked, Bonus damage (+35% vs Mages and Templars), Taunt | Inquisition, Nobility, Chantry, Seekers, Warriors |
| | Sentinel Spellbinder | 185 | 330 | Blue | Slow | All | Gain health when ally or enemy dies, Health aura (+25% to Sentinel Elves) | Elves, Mages |
| | Ser Pounce-A-Lot | 275 | 528 | Red, Blue | Quick | Row | Heal allies, Power aura (+25% to Anders and Circle Mages, +50% to Ser Pounce-A-Lot), Elusive | Pets, Creatures, Rogues, Circle |
| | Ser Stroud | 158 | 345 | Black, White | Normal | All | Empower allies, Chance for second Empower allies effect, Absorb AOE damage for allies if also attacked, Gain power on ally death, Power aura (+50% to Wardens) | Wardens, Warriors |
| | Shah Wyrd | 230 | 633 | Black | Normal | Column | Gain power, Reduce damage (-20%), Bonus damage (+25% vs Spirits), Elusive | Demonic, Mages |
| | Sister Nightingale | 255 | 735 | White | Quick | One | Gain power, Power aura (+50% to Chantry), Reduce damage aura (-10% to all) | Inquisition, Ferelden, Chantry, Orlesian, Rogues |
| | Sky Horror | 185 | 330 | Black | Slow | All | Stun (small chance), Immune to stun | Demonic, Mages |
| | Snug the Bronto | 350 | 1617 | Large | Slow | One | Slow, Health aura (+50% to Dwarves), Taunt | Pets, Dwarves, Creatures |
| | Sophia Dryden | 350 | 1540 | Black, White | Slow | Column | Slow, Health aura (+25% to Demons and Wardens), Power aura (+25% to Demons and Wardens), damage resistance (-35% from Grey Wardens and Mages) | Demonic, Wardens, Warriors |
| | Spirit of Hope | ? | ? | Blue | Normal | One | Heal allies, More likely to attack black faction, Reduce damage aura (+10% to all), +25% health to Wynne | Spirits, Mages |
| | Spirit of Justinia | 250 | 1430 | Blue | Slow | Column | Curse (prevents healing for a turn), Gain health on ally death, Health aura (+50% to Spirits), Bonus damage to Demons | Spirits |
| | Steel Golem | 170 | 770 | White | Slow | All | Slow, Immune to drain power | Dwarves, Golem, Warriors |
| | Sten, the Arishok | 395 | 1320 | Red | Slow | One | Gain health when ally dies, Gain power when allies attacked, Taunt | Outlaws, Qunari, Warriors |
| | Tallis | 192 | 460 | Red | Quick | Row | Stun (small chance), Power aura (+50% to Qunari) | Qunari, Rogues, Elves |
| | Thornton | 200 | 220 | White, Red | Quick | Row | Curse, Chance for second attack, Health aura (+25% to Inquisition), Power aura (+25% to Inquisition), More likely to attack Blood Mages | Inquisition, Rogues |
| | Uldred | 220 | 825 | Black, Blue | Slow | All | Gain power when ally is attacked, Immune to drain power | Blood Mage, Demonic, Circle, Mages |
| | Varric Tethras | 175 | 444 | Red, White | Quick | Row | Empower allies, Flank, Elusive | Inquisition, Dwarves, Outlaws, Rogues |
| | Velghast Chieftain | 231 | 914 | Red | Slow | All | Slow, Slow resistance aura (to Beasts and Mages) | Creatures, Mages |
| | Vengeance Anders | 237 | 480 | Blue | Slow | All | Health aura (+50% to Mages), Bonus damage (+25% vs Blighted) | Apostates, Spirits, Wardens, Mages |
| | Warden Commander Duncan | 280 | 715 | Black, White | Quick | One | Bonus damage (+25% vs Blighted), Power aura (+25% to Rogues), Gain power when ally is attacked, Flank, Elusive | Rogues, Wardens |
| | Witherfang | 275 | 528 | Red, Blue | Quick | Row | Stun (high chance), Flank, Power aura (+50% to Creatures and Spirits) | Spirits, Creatures |
| | Wynne | 157 | 385 | Blue | Normal | All | Heal allies, Health aura (+25% to all) | Spirits, Mages, Circle |
Two-star
Edit
| | Character | Power | Health | Faction | Speed | Target | Special Ability | Group |
| --- | --- | --- | --- | --- | --- | --- | --- | --- |
| | Abelas | 240 | 781 | Blue | Slow | Row | Gain power on ally or enemy death, Power aura (+25% to Sentinel Elves), Health aura (+25% to Sentinel Elves) | Elves |
| | Alamarri Warlord | 350 | 990 | Red | Quick | Column | Absorb AOE damage for allies if also attacked, Health aura (+25% to Outlaws), Power aura (+25% to Outlaws) | Ferelden, Outlaws, Warriors |
| | Aurelian Titus | 205 | 385 | Black, White | Quick | Column | Curse (prevent healing), Chance for second attack, Power aura (+25% to Blood Mages and Demons) | Tevinter, Blood Mage, Mages |
| | Behemoth | 400 | 1650 | Large | Slow | Column | Absorb AOE damage for allies if also attacked, Gain power and health when enemy dies, Health aura (+25% to Red Faction), Power aura (+25% to Red Lyrium), Taunt | Red Lyrium, Templars, Warriors |
| | Blackwall | 376 | 1375 | White, Red | Slow | Column | Stun (moderate chance), Heal self (small chance), Absorb AOE damage for allies if also attacked, Gain health when ally or enemy dies, Health aura (+50% to Wardens and Inquisition), Taunt | Inquisition, Wardens, Warriors |
| | Broodmother | 285 | 1067 | Large | Slow | All | Stun, Heal allies, Health aura (+35% to Blighted), Power aura (+35% to Blighted), Reduce drain power aura | Blighted, Creatures |
| | Captain Isabela | 230 | 770 | Red | Quick | One | Bonus damage (+35% vs Qunari), Power aura (+25% to Outlaws and Rogues), Immune to Stun, Flank, Elusive | Outlaws, Rogues |
| | Cillian | 260 | 990 | White, Blue | Normal | Row | Stun (small chance), Stun resist aura (+50% to all) | Inquisition, Elves, Mages |
| | Empress Celene | 314 | 860 | White | Normal | Column | All allies gain power upon damaging enemies, Gains power when allies attacked, Damage bonus (+30% to Ferelden and Tevinter | Nobility, Orlesian |
| | Felix | ? | ? | Blue | Normal | Column | Drain power, Empower allies, When attacked allies gain power | Tevinter, Mages |
| | Gaxkang the Unbound | 250 | 1100 | Black | Slow | One | Drain power, Chance for second attack, Immune to power drain, Immune to slow, Immune to stun | Demonic, Warriors |
| | Grey Warden Genevieve | 375 | 770 | Black, White | Normal | Column | Gain power, Absorb AOE damage for allies if also attacked, Bonus damage (+25% vs Blighted), Power drain immunity aura (to Grey Wardens), Slow immunity aura (to Grey Wardens) | Orlesian, Wardens, Warriors |
| | Grey Warden Oghren | 341 | 1150 | Black, White | Slow | One | Gain power, Gain power when attacked, Bonus damage (+25% vs Blighted) | Dwarves, Wardens, Warriors |
| | Grey Warden Sigrun | 350 | 660 | Black, White | Quick | Row | Curse, Damage aura (+25% vs Blighted), Elusive | Dwarves, Wardens, Rogues |
| | Grey Warden Velanna | 350 | 990 | Black, Blue | Slow | All | Curse, Damage aura (+30% vs Ferelden and Blighted) | Wardens, Elves, Mages |
| | Guardian of the Urn | 350 | 990 | Blue | Slow | One | Gain power, Heal self, Absorb AOE damage for allies if also attacked, Reduce damage aura (+10% to all) | Spirits, Nobility, Chantry, Warriors |
| | Imperial Archon | 400 | 605 | Black, White | Quick | Row | Curse, Power aura (+35% to Tevinter) | Tevinter, Blood Mage, Mages |
| | Josephine | 300 | 1430 | White | Slow | One | Heal allies, Stun immunity aura (to Inquisition), Slow immunity aura (to Inquisition), Reduce damage aura (+10% to all) | Inquisition, Nobility |
| | Justice | 290 | 1430 | Blue | Normal | One | Gain power, Curse (negate/prevent power gain), Reduce damage (+25%), Taunt | Spirits, Warriors |
| | King Maric | 250 | 787 | White | Normal | Row | Gain power, Gain power when attacked, Health aura (+50% to Ferelden) | Ferelden, Nobility, Warriors |
| | Lord Erimond | 306 | 1222 | Black, Blue | Normal | All | Slow, Stun (small chance), Resist Power Drain, Bonus damage (vs Grey Wardens) | Tevinter, Blood Mage, Mages |
| | Maevaris | 350 | 429 | Blue | Normal | All | Curse, Heal allies, Health aura (+35% to Tevinter) | Tevinter, Mages |
| | Neria | 350 | 990 | Blue | Normal | All | Heal allies, Health aura (+25% to Elves), Power aura (+25% to Elves) | Inquisition, Elves, Mages |
| | Noble Spirit of Justinia | ? | ? | White, Blue | Slow | Column | Curse (negates and prevents power gain for one turn), Heals all allies, Gain health on any hero death, Health aura (+75% to Spirits), Bonus damage to Demons | Spirits |
| | Paragon Caridin | 390 | 1438 | Large | Slow | Row | Heal self, Reduce damage (-25%) | Dwarves, Nobility, Golem, Warriors |
| | Prince Sebastian Vael | 225 | 761 | White | Quick | Column | Drain power, Health aura (+35% to Nobility and Chantry), Power aura (+35% to Nobility and Chantry) | Nobility, Chantry, Rogues |
| | Red lyrium Giant | 948 | 2420 | Giant | Slow | Column | Health aura (+50% to Red Lyrium), Gain power, Bonus damage to Creatures, Immune to stun, More likely to be attacked | Red Lyrium, Creatures |
| | Red lyrium Samson | ? | ? | Black, Red | Normal | Row | Small chance to gain massive power, Gain power when allies attacked, Grant stun immunity and +75% power to Red Lyrium, More likely to attack Mages | Red Lyrium, Templars, Warriors |
| | Sera | 185 | 330 | Red | Quick | Row | Greatly Slow, Chance for second attack, Flank, Elusive | Inquisition, Elves, Rogues |
| | Warden Commander Clarel | 350 | 935 | Black, Blue | Normal | All | Slow, Drain power, Stun Immunity (to Grey Wardens), Bonus damage (vs Blighted and Tevinter) | Blood Mage, Orlesian, Wardens, Mages |
Three-star
Edit
| | Character | Power | Health | Faction | Speed | Target | Special Ability | Group |
| --- | --- | --- | --- | --- | --- | --- | --- | --- |
| | Advisor Cullen | 325 | 1100 | White | Slow | One | Stun (moderate chance), Damage resist aura (+10% to all), Power aura (+10% to all), Taunt | Inquisition, Warriors |
| | Alexius | 150 | 429 | Black | Normal | All | Slow, Power and health aura (+25% to Nobility and Tevinter) | Tevinter, Mages |
| | Cole | ? | ? | Red, Blue | Quick | Random | Attacks up to 10 times, Chance to afflict status ailment, Stun Immunity to Inquisition | Spirits, Inquisition, Rogues |
| | Dorian[1] | 230 | 770 | White, Blue | Normal | All | Drain power, Health and power aura (+25% to Inquisition) | Tevinter, Inquisition, Mages, Circle |
| | Iron Bull | ? | ? | Red | Slow | One | Gain power, Heal self, Absorb AoE damage for allies if attacked, Gain power when attacked, Bonus damage to Creatures, Much more likely to be attacked | Inquisition, Outlaws, Qunari, Reavers, Warriors |
| | Solas | 225 | 825 | Blue | Normal | All | Curse, Gain power and health when ally dies, Health aura (+25% to Spirits and Demons), Power aura (+25% to Spirits and Demons) | Inquisition, Elves, Mages |
| | Vivienne | 350 | 990 | White, Blue | Normal | Column | Curse, Chance for second attack, Heal allies | Orlesian, Mages |
References
Edit
↑

To unlock Dorian one must own/have previously owned the following heroes: Maevaris, Felix, Imperial Archon, Spirit of Valor, Tevinter Battlemage
External link
Edit