The Chanter's Board is a job board provided by the Chantry in Thedas. Considering the degree to which the Chantry is integrated into politics, it should come as no surprise that jobs on this board generally help the already rich and powerful. All of these quests will provide a monetary reward (at least one sovereign).
To complete these quests, you must return to any of the Chanters attending the boards.
Dragon Age: Origins Edit

Bandits, Bandits, Everywhere

When Bears Attack

A Last Keepsake
These are available only after The Attack at Nightfall quest.

Caravan Down

Brothers and Sons

Skin Deep

Desperate Haven

Back Alley Justice

Fazzil's Request

Loghain's Push

Missing in Action
Note: Aside from Loghain's Push, all of the quests given by the board in Denerim will appear under the "Denerim" heading in the Journal, rather than the "Chanter's Board" heading.
These are only available when certain conditions are met.

Unintended Consequences

Jowan's Intention
Dragon Age: Origins - Awakening Edit

A Donation of Injury Kits

A Donation of Poultices

Out of Control

Preying on the Weak

From the Living Wood
Dragon Age II Edit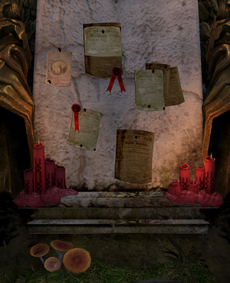 Sketchy on the Details

Elves at Large

Bounty Hunter
Completing one of these quests will unlock the Pilgrim achievement in Dragon Age: Origins.
Some of the Redcliffe quests are also available at the Denerim Chanter's Board.
Turning in multiple quests at once will give you the reward for all of them, but only the last of them will show up on feedback. If you turn in three quests that each are worth 1 gold, you will only see 1 gold added but checking your inventory will show you got the full 3 gold reward.
See also
Edit