Mountainside Caverns
Talk

2
6,749pages on
this wiki
Redirected from Caverns
Location
Caverns
Mountainside Caverns

Terrain:

Subterranean

Type:

Caverns

Location:

Inhabitants:

Characters:

Exits:

Appearances:
The Mountainside Caverns extend onwards from the Ruined Temple and continue the path on the quest for The Urn of Sacred Ashes. Inside the caverns, the Disciples of Andraste reside.
Involvement
Edit
Click here to reveal spoilers
for Dragon Age: Origins.
Feeding Chambers: About midway through the caverns and located to the east of the map, a room with several goats and sheep. Three drakes will spawn, dropping drake scales when killed. These can be given to Wade at Denerim who will use them to craft Wade's Drakeskin Armor Set.
Hatchery Room: A cavern with a lot of dragon eggs within located at the very top right room of the caverns. Another three drakes will spawn which when killed provide a total of three more scales for Wade.
Final cave: This is where Kolgrim is located. He will ask The Warden to defile the Sacred Ashes: agreeing to his proposal will start the associated quest; however, refusal to do so will result in Kolgrim and his guards turning hostile and a battle will ensue.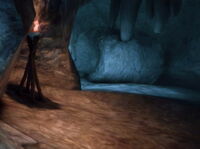 Notable items
Edit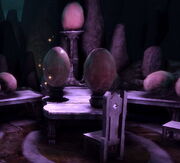 Drake Scale
Drake Scale
---
Other

None
Faith's Edge
Faith's Edge
---
Battleaxe
Silverite (Tier 6)
Requires: 34 strength

Damage: 15.00 (

pc

)
13.50 (consoles)
Critical chance: 4.50%
Armor penetration: 5.25
Strength modifier: 1.10




+2 willpower
+5% critical/backstab damage
Lifedrinker
Lifedrinker
---
Amulet


The emblem of the Imperium decorates this ancient golden torc. It is studded with garnets the color of dried blood, and feels bitter cold to the touch.



+4 spellpower
Spellweaver
Spellweaver
---
Longsword
Silverite (Tier 6)
Requires: 27 strength/magic

Damage: 10.50
Critical chance: 3.00%
Armor penetration: 3.50
Strength modifier: 1.00




+5 magic
+1 or +2 mana regeneration in combat
+10% spell resistance
+3 electricity damage
Stone Warrior Statuette
Stone Warrior Statuette
---
Gift


A small stone carving of a humanoid warrior.



, found in a
pile of dragon filth
.
Codex entries
Edit
Codex entry: The Life Drinker
Containers
Edit
Special objects
Edit