Ad blocker interference detected!
Wikia is a free-to-use site that makes money from advertising. We have a modified experience for viewers using ad blockers

Wikia is not accessible if you've made further modifications. Remove the custom ad blocker rule(s) and the page will load as expected.
Castle Cousland is a fortress located in Highever. It is the seat of the Cousland family who have reigned as the Teyrns of Highever since the Black Age. It is also the location where the events of Human Noble Origin take place.

Father's Task

Mischief in the Larder

Howe Treachery

The Cousland Treasury

Sweet Iona / Sweet Dairren
Characters
Edit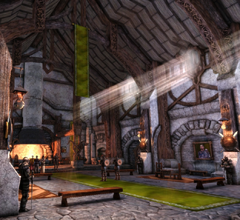 Notable items
Edit
Family Sword
Family Sword
---
Longsword
Grey Iron (Tier 2)
Requires: 13 strength

Damage: 7.70
Critical chance: 2.20%
Armor penetration: 2.30
Strength modifier: 1.00
+1 damage
+4 attack
- family chest in the treasury during The Cousland Treasury quest

Shield of Highever
Shield of Highever
---
Kite shield
Grey Iron (Tier 2)
Requires: 20 strength

Fatigue: 3.36%
Strength modifier: 1.00
+4 attack
- family chest in the treasury during The Cousland Treasury quest
Codex entries
Edit

Codex entry: Andraste: Bride of the Maker
- Book found in the chapel

Codex entry: The Chant of Light: The Blight
- Book found in the chapel

Codex entry: The Maker
- talk to Mother Mallol

Codex entry: Darkspawn
- talk to Fergus

Codex entry: Dogs in Ferelden
- meet Dog

Codex entry: Dog
- have dog join your party

Codex entry: The Grey Wardens
- meet & talk with Ser Gilmore

Codex entry: Politics of Ferelden
- Book in Fergus' room

Codex entry: The Noble Families of Ferelden
- talk to Aldous

Codex entry: History of Ferelden: Chapter 1
- Book in library

Codex entry: History of Ferelden: Chapter 2
- Book in library

Codex entry: Culture of Ferelden
- Book in study