Caravan
Talk

0
6,749pages on
this wiki
Location
Caravan
Forest Meadow

Terrain:

Plains

Type:

Caravan

Location:

Southron Hills

Inhabitants:

Exits:

Appearances:
Caravan is a random encounter location in Dragon Age: Origins.
Background
Edit
The Warden travels to the Forest Meadow only to discover they are too late and darkspawn have slaughtered the entire caravan. It falls to the Warden to avenge their deaths, or loot the remains.
Caravan Down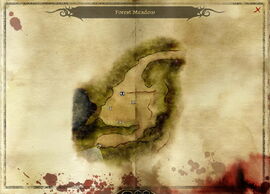 Notable items
Edit
Deathroot
Deathroot
---
Item


A harmless enough plant on its own, deathroot's thick leaves contain an extract that the Chasind have used to induce hallucinations for centuries. Sufficiently concentrated, it can be made into a deadly poison.



Elfroot
Elfroot
---
Item


The common name for canavaris, this herb actually has little to do with elves other than being commonly collected and traded to outsiders by the Dalish. It is the primary ingredient in many healing salves.



Use: Chewing elfroot restores a small amount of health, and those with skill can use elfroot to make more potent elixirs.
See also
Edit