Beneath the estate above, lies the Arl of Denerim's dungeon. The last residence of many unfortunates who broke the law in Denerim, in particular the elves of the local Alienage. The fact that the Arl's bedroom has a passage adjoining one of the dungeon's multiple torture chambers is the stuff of urban legends.

The Game
- The main quest of
Leliana's Song

Rescue the Queen

Missing in Action

Tortured Noble

Lost Templar
Involvement
Edit
Characters
Edit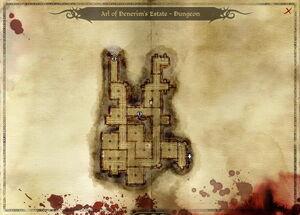 Leliana's Song Edit
Dragon Age: Origins Edit
Ad blocker interference detected!
Wikia is a free-to-use site that makes money from advertising. We have a modified experience for viewers using ad blockers

Wikia is not accessible if you've made further modifications. Remove the custom ad blocker rule(s) and the page will load as expected.