Alistair
Talk

295
6,750pages on
this wiki
Alistair is a playful and compassionate Grey Warden and one of the companions in Dragon Age: Origins. He is a potential romance option for a female Warden.
Background
Involvement
Dragon Age: Origins
Dragon Age: Awakening
The Darkspawn Chronicles
Dragon Age II
Dragon Age: The Silent Grove
Dragon Age: Those Who Speak
Approval
See Alistair/Approval for more information.
The Warden can increase Alistair's approval rating through gifts (covered below), dialogue, and plot decisions. Alistair responds well when you ask him to speak about himself. Typically, Alistair will try to deflect your question with a joke, which you can move past either by joking (often leading to humorous conversation) or calling Alistair's bluff. Neither approach will affect his approval. Alistair is, in a sense, shy and speaks often of Duncan and the Grey Wardens. In many ways, Alistair views Duncan as a surrogate father. Always affirm his emotional responses, and his approval rating will increase.
When speaking of one's post-Joining experiences, Alistair approves of responses that reflect his own. Admit to nightmares, increased appetite, etc. to slightly bump his approval. When the hero speaks to Alistair about other personal things (such as sex), Alistair admires answers which suggest both strength and experience. Do not mock him for his own softness and relative inexperience, however, as these will negate any approval benefits the hero receives through insisting on his own prowess.
Romance
Quests
Dragon Age: Origins
Alistair's Family
Dragon Age II
King Alistair
Despite being raised by the Chantry to be a templar, Alistair has a deep interest in the arcane and occult, as evidenced by his preference for gifts of statues and rune stones. His plot items, however, are his mother's (repaired) amulet, found on the desk of the Arl of Redcliffe in Castle Redcliffe and Duncan's Shield, found inside Market Warehouse, in Denerim Market District.
───────
Sometimes if you put Alistair into your party, he may respond as if he has just received a gift that has improved his approval to you by +1
Initial statistics
See Companion Strategies for suggestions on how to develop Alistair.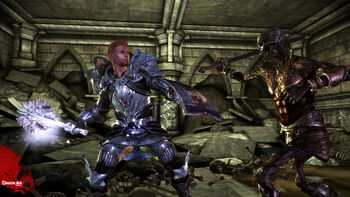 Relative Attribute Weightings on Auto-Level: Strength 1.5, Dexterity 0.8, Willpower 0.4, Magic 0, Cunning 0, Constitution 0.9.
Class: Warrior
Specialization: Templar
Skills: Expert Combat Training
Starting Talents:
Templar: Righteous Strike
Warrior: Powerful
Weapon and Shield: Shield Bash, Shield Pummel, Shield Block, Shield Cover
Gear
Initial gear
Runic Worry Token
Runic Worry Token
---
Ring


A cast rune, the surface worn by a preoccupied thumb. Alistair found it after an early skirmish with the darkspawn. He is fascinated by arcane imagery, something not unexpected of a Grey Warden.



+1 willpower
+10 mental resistance
Splintmail
Splintmail
---
Medium chestpiece
Varies (Tier 1-7)
Requires: 14 strength

Armor: 4.25
Fatigue: 7.00%
Splintmail Boots
Splintmail Boots
---
Medium boots
Varies (Tier 1-7)
Requires: 14 strength

Armor: 1.00
Fatigue: 1.50%
Splintmail Gloves
Splintmail Gloves
---
Medium gloves
Varies (Tier 1-7)
Requires: 14 strength

Armor: 0.75
Fatigue: 1.25%
Templar Shield
Templar Shield
---
Kite shield
Varies (Tier 1-7)
Requires: 18 strength

Fatigue: 3.20%
Strength modifier: 1.00
Warden's Longsword
Warden's Longsword
---
Longsword
Varies (Tier 1-7)
Requires: 11 strength

Damage: 7.00
Critical chance: 2.00%
Armor penetration: 2.00
Strength modifier: 1.00
Alistair-specific gear
Runic Worry Token
Runic Worry Token
---
Ring


A cast rune, the surface worn by a preoccupied thumb. Alistair found it after an early skirmish with the darkspawn. He is fascinated by arcane imagery, something not unexpected of a Grey Warden.



+1 willpower
+10 mental resistance
Plot skills
As you befriend Alistair and gain his approval he will gain the following additional abilities:
| Skill Name | Benefit | Requirement |
| --- | --- | --- |
| Inspired: Minor Constitution | +1 to Constitution | 25% approval |
| Inspired: Moderate Constitution | +2 to Constitution | 50% approval |
| Inspired: Major Constitution | +4 to Constitution | 75% approval |
| Inspired: Massive Constitution | +6 to Constitution | 90% approval |
Notes
Even if Alistair is a fully trained templar and can normally use his templar talents as seen in Dragon Age: Origins and Dragon Age: Those Who Speak, he neither uses lyrium as do the rest of the templars, nor does he suffer from lyrium withdrawal.
Quotes
Main article: Alistair/Dialogue
Dragon Age: Origins
(To Morrigan) "Yes... Swooping is bad..."
"You know, one good thing about the Blight is how it brings people together."
(After the Joining) "Two more deaths. In my Joining, only one of us died, but it was... horrible. I'm glad at least one of you made it through."
"Just so you know, if the king ever asks me to put on a dress and dance the Remigold, I'm drawing the line. Darkspawn or no."
(After first giving advice on Archdemon-dreams) "That's what I'm here for. To deliver unpleasant news and witty one-liners."
(After Redcliffe) "Now that the warm and fuzzy part of the day is over we can get back to the ritual dismemberments. Oh wait, it's not Tuesday is it?"
"You smell great; is that death you're wearing? It really suits you."
(Revived from unconsciousness) "We won? We did? Yay!"
(After battle, heavily injured) "Injured! As in me, as in Ow!"
"Have you ever licked a lamp post in winter?"
(On Queen Anora) "Oh, and she turned on us. What a shock. She seemed like such a nice despot."
(Prior to entering the Brecilian ruins, occasionally) "I think this is it. Werewolf city... a kind of flea heaven, isn't it?"
(During the first visit to Redcliffe, being asked about if there's anything more the Warden should know) "Aside from my love for fine cheeses and an unhealthy obsession for my hair, no. Just the Prince thing."
Dragon Age II
"I'm Alistair, uh... King of Ferelden. And this is Teagan, my uncle. Sort of."
"I was hoping we could talk. Would've been better timing before being emasculated by Meredith, but I'm not picky."
(Drunk Alistair to Isabela) "You sound like Morrigan."
Dialogue
(Leliana's second attempt to join the party, if she was refused the first time)
Warden: "Alistair, she's one Archdemon short of a blight."
Alistair: "Yes, but she seems more... "Ooh, pretty colors!" than "Muahaha! I am Princess Stabbity! Stab, kill, kill!"
───────
(Presenting a rose to a female Warden)
Alistair: "Here, look at this. Do you know what it is?"
Warden: "Your new weapon of choice?"
Alistair: "Yes, that's right! Watch as I thrash our enemies with the mighty power of floral arrangements! Feel my thorns, darkspawn! I will overpower you with my rosy scent!"
───────
(Gossiping about the other companions)
Alistair: "I've got this nefarious plan to go around to each of them, and secretly tell them all the nasty things you said. That way they'll mutiny, and I shall become the group leader!" (evil laugh)
Warden: "If you want to lead, all you have to do is ask."
Alistair: "What? Lead? Me? No, no, no. No leading. Bad things happen when I lead. We get lost, people die, and the next thing you know I'm stranded somewhere without any pants."
Trivia
When asked to compare a set list of NPC companions to food, BioWare employee Cori May said that Alistair was most comparable to "strawberries and cream, sweet and wholesome and delicious, and a little goofy."[2] While writer Sheryl Chee says "Alistair is an apricot. Cute, sweet and just a little fuzzy."[3]
Writer Sheryl Chee has said that when going out for a drink Alistair would "have half a pint and giggle uncontrollably for the rest of the night." [4]
In writing Alistair, David Gaider was inspired by Xander from Buffy the Vampire Slayer and Malcolm Reynolds from Firefly.[5] Gaider also wanted Nathan Fillion, who played Mal, to be Alistair's voice actor but it was decided to choose a British actor instead.[6]
Alistair was originally supposed to be a "grizzled Grey Warden veteran". That didn't work well for a character that needed to join the player early, and he was rewritten. [7]
Alistair is David Gaider's favorite NPC from Dragon Age: Origins. [8]
The name Alistair can mean "Defender of the People", or "One who holds off the enemies".
Alistair seems to have a persistent fear of mages turning him into a toad.
David Gaider apparently once compared Alistair to a "gateway drug", causing Sheryl Chee to question Gaider in shock believing him to have said "date-rape drug". To this Gaider responded "I said a GATEWAY drug!" [9]
Alistair's surname after becoming king has been confirmed as Theirin in the comic series, but it is unknown if he takes this name after his coronation or holds it since birth.
Alistair's romance bears some resemblance to that of Sir Anomen Delryn, from Baldur's Gate II Shadows of Amn (One of Bioware Corp's first RPG'S). They both will give the main character a flower to announce their romantic interest in them.
Alistair is the companion appearing in the biggest number of series' media.
Gallery
See also
Codex entry: Alistair
Codex entry: Alistair
References
External links