The Abandoned Orphanage was the site of a massacre during an elven riot in the Denerim Alienage. All of its previous occupants have perished in the massacre save a deranged female beggar. It now sits empty in the Denerim Alienage, though a dark presence seems to linger.

Something Wicked

Hearing Voices
Characters
Edit
Notable items
Edit
Worn Amulet

Worn Amulet

---

Plot item


A worn and tarnished silver amulet, caked in dirt.


(found in a locked chest after the final boss fight)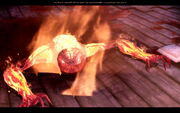 Fire trap in the boss room will keep going off when you walk over it.
You can hear child's voice cite a few lines.

Do you hear me Ser Wilhem, Ser Wilhem?
I am falling Ser Wilhem, Ser Wilhem, today.
I'm a maiden Ser Wilhem. Ser Wilhem?
But I'm dying Ser Wilhem, Ser Wilhem. In pain.

And a second verse:

One, two, Maric's run through
Three four, the kingdom's at war
Eight nine and now you die
Ended by laughter

The sounds of screaming women and children will be present for as long as you are in the orphanage.
Ad blocker interference detected!
Wikia is a free-to-use site that makes money from advertising. We have a modified experience for viewers using ad blockers

Wikia is not accessible if you've made further modifications. Remove the custom ad blocker rule(s) and the page will load as expected.