Ad blocker interference detected!
Wikia is a free-to-use site that makes money from advertising. We have a modified experience for viewers using ad blockers

Wikia is not accessible if you've made further modifications. Remove the custom ad blocker rule(s) and the page will load as expected.
The Abandoned Chateau is an elaborate Orlesian estate which was abandoned at the height of the War of the Lions.
Involvement
Edit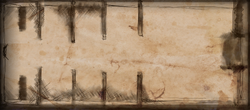 Notable items
Edit
The following can be obtained within a sealed chest guarded by two corpse archers and two Arcane horrors.
The Hand That Cuts

The Hand That Cuts

---

Unique Ring




This ring grows unusually warm when slipped onto a finger. it pulses slightly and steadily, as if in time with the wearer's heartbeat.



+20% Critical Damage Bonus
The following stacking bonus is granted on ability usage:
*2 Pieces: +10% Attack Speed
*3 Pieces: +10 Movement Speed
*4 Pieces: 1% Heal on hit
Set: The Taken Shape
Codex entries
Edit